August in Lehigh Valley is a very important month with a ton of fun things to do.
And even though the dreaded phrase, "back to school," starts to be thrown around, there are still magical days and nights that can take place with your friends and family.
Whether it is taking in our history and our roots, feeding our stomach, opening our ears and our eyes, August in Lehigh Valley is about one more month for indulging in a little fun for all of the senses!
Here are some events you should check out:
Musikfest (Aug. 1 - 10) gives you ten days of music, food, and fun on the north and south sides of Bethlehem is just the tip of the iceberg.
So get your 'FEST on in Bethlehem and then Go West to get your FESCHT on at Das Awkscht Fescht in Macungie.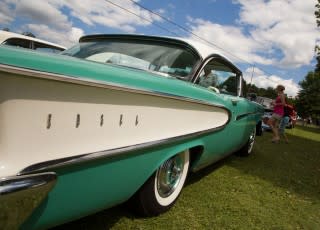 Awkscht Fescht (Aug. 1, 2 & 3) is one of the biggest antique car shows in the country and it isn't just about cars. There is also food and music to be had. This year's featured car is the Dodge Brothers, but they'll be cars from many eras and styles for you to ogle at.
After you've figured out how long it will take you to save up for that one amazing car that catches your eye, (only one if you're lucky!) then you can head back east into Allentown to pick up the beat.
Some of the best drum corps on the east coast will be in Allentown for the Drum Corps International Eastern Classic and Eastern Championships (Aug. 1 & 2). This isn't just some random beats and marching, it's drum corps taken to the next level. If you've never attended DCI, then you're missing out. Everyone will enjoy the show.
If strings are more your style, Martin on Main (Aug. 2) hosted by the Nazareth-Bath Area Chamber of Commerce, will feature live bands, food, beer and wine, and of course a Martin display and plenty of Martin Guitars. This is the 7th year for the event, and maybe you'll be the lucky person to walk away from Martin on Main as winner of a Martin Guitar from the Martin Guitar raffle.
There are some regular summer events that take place during August.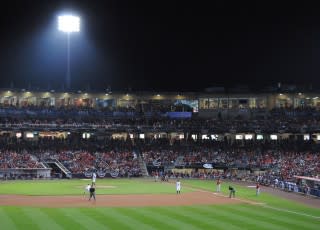 The Valley Preferred Cycling Center has world class professional cyclists doing battle not only during the five Friday nights of August, but also on the four Tuesday nights of August as well. So get out to the track in #Ttown for some world-class track cycling.
The Lehigh Valley IronPigs are also back for three different home-stands totaling 17 home games for the 'Pigs at Coca-Cola Park, before ending the regular season up in Scranton on September 1.
Music is one of the focuses of August events in Lehigh Valley and that focus continues with the Red Robin Summer Bash (Aug. 15), now in it's 13th year, music, mascots and beverages outside the Tilghman Square Red Robin are for a good cause, as every admission will benefit The Leukemia & Lymphoma Society.
Music can also be heard at Pennsylvania's oldest Native American Indian Festival, the Roasting Ears of Corn Festival (Aug. 16 - 17), taking place at The Museum of Indian Culture in Allentown. Live music, dance performances, children's activities, handcrafted items and American Indian cuisine.
The other focus of August events in Lehigh Valley is cars and Awkscht Fescht isn't the only game in town. Wheels of Time Rod & Custom Jamboree (Aug. 22 - 24) is also held in Macungie, but instead of just nostalgia, this event features food and music and  focuses on street rods and customs.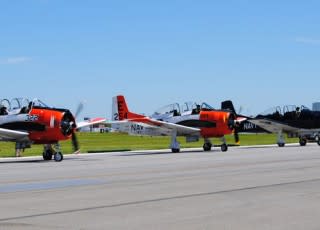 From the ground to the sky, the Lehigh Valley Air Show (Aug 23 & 24) is back for its second year with planes from both today and yesterday. There are special activities for the kids, and the planes aren't just performing in the sky, but there is also the opportunity to get up close and see these beautiful machines, as well.
What about eating healthy? With all these festivals, surely you've had your fill of great food that isn't as good for you as say vegetables. Fear not, in Bethlehem you can head to Bethlehem VegFest (Aug. 23) to speak with and shop among a wide array of vegan and natural food providers. It may not undo all of the cheesesteaks, burgers and fries, but it won't hurt.
August comes in with a bang and then the bass starts and the guitars come in, but that doesn't mean the song of Lehigh Valley August goes out with a whimper or just fades away. Quite the contrary Lehigh Valley's August goes out in quite the same fashion it comes in, with a bang, book-ended by two huge festivals starting with Musikfest and ending with The Great Allentown Fair (Aug. 26 - Sept. 1).
Usually, the last bastion of summertime fun before school starts, The Great Allentown Fair, its food, games, music and fun, is a Lehigh Valley tradition, much like the rest of the events in August. Some locals, go to all of these events, some pick and choose, some only go to one, while others come to the area for one event, completely oblivious to the other exciting things that are happening during their stay.
Pass this one on, spread the word, there's a lot more going on in Lehigh Valley than you think, from Allentown to Bethlehem to Easton, it is the best place in Pennsylvania to spend August.