Some destinations have one or two major world-class attractions. Others have five or six. You'll soon discover that in Lehigh Valley, experiencing all of the world-class attractions take up the better part of a week! Historic Bethlehem was recently given National Landmark status when historians came to the conclusion that the original Moravian core simply could never be replaced. Martin Guitars have been made famous around the world by the likes of Willie Nelson, Johnny Cash and other hard driving musicians.
The Allentown Art Museum of the Lehigh Valley houses a collection of priceless 14th century northern European works of art. Glasbern has been awarded hundreds of accolades for their farm-to-table dining. The Banana Factory's hot glass studio is always flowing with red-hot molten glass creations. America On Wheels tells the story of transportation in America. Hawk Mountain has been designated a sanctuary because of the migrating hawks that pass through at different times of the year.
And then you have Hugh Moore Park, revealing the story of the Delaware and Lehigh Canal, which moved the anthracite, hot burning, hard coal that fueled the industrial revolution in America from the mountains of far northeastern Pennsylvania to markets across the country. In between, these locations, you can meander the Lehigh Valley Wine Trail along lush scenic byways through crisply groomed farms and dense green hillsides, eat at Porters' Pub, one of the most fun locations on the Lehigh Valley Ale Trail and dine at Emeril's (one of three restaurants at Sands© Bethlehem), voted the number one restaurant in the region. Cap off your trip with a fly over the valley!
Day One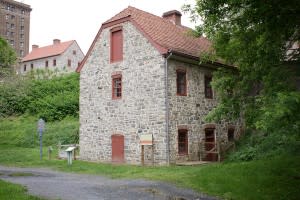 Today, you can begin exploring Lehigh Valley where it all started, in Bethlehem, settled in 1741 by Moravians looking for a place where they could prosper and live the life they believed was right. The Bethlehem Visitors Center, located in a historic structure right downtown, begins introducing you to the story as soon as you walk in. The attached 1810 Federal Johann Sebastian Goundie House, which displays revolving exhibits related to Bethlehem's history, represents a transitional period in Bethlehem architecture from the stone of the original settlement to more private, urbane later structures.
On the Historic Walking Tour, you will be introduced to 20 historic stops by a very knowledgeable guide in period dress. You'll learn about the Moravians' community which, although the first settlers all came from Germany, quickly became a very diverse religious group. For the first 20 years, the community operated under a General Economy where everyone contributed to the economy of the community and in return, received housing, food, clothing and medical care. It also served as a training ground for trade craftsmen who settled in other areas in Pennsylvania.
Right across the river, the gateway to the area's very robust arts community awaits at The Banana Factory, Bethlehem's visual arts center. In addition to offering a variety of art classes for all ages, the center is home to two floors of resident artists, First Friday arts celebrations, ongoing exhibits and Lehigh Valley's only hot glass studio.
We recommend dinner this evening at Glasbern, one of the finest restaurants in the state before retiring to your accommodations.
Accommodations: Hyatt Place
Day Two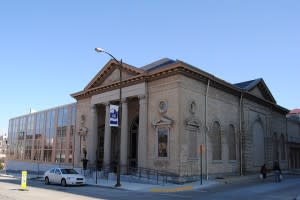 Begin your morning today at the Allentown Art Museum of the Lehigh Valley, holding nearly 17,000 works. The collection of now more than 100 Old Masters works began with a donation of 60 paintings representing a balanced spectrum of Renaissance and Baroque art. The early Flemish works painted on wood are particularly beautiful. A number of the American works featured are by artists from Eastern Pennsylvania. Nearly one half of the museum's collection is comprised of textiles from 16 centuries and five continents, assembled to illustrate their role as "the fabric of life."
America's love affair with the road is illustrated at America On Wheels, which in addition to your favorite vintage automobiles, features, as they put it, "the vehicles that put our nation on the road to international leadership in road transportation." The South Gallery includes a variety of Mack Trucks produced over the years, along with an extensive collection of bikes. In the North Gallery you'll find the first "horseless carriage" ever made, the first electric car and the first mass produced car. A special exhibition covers the Cadillac V-12 Fleetwood, produced locally in Fleetwood, Pennsylvania.
From there you can slip through historic Catasauqua, where Biery's Port Historic District and the Residential Historic District, illustrate two completely different eras of the region's historic architecture. After that, sip some of the areas distinctive wines on the Lehigh Valley Wine Trail at Vynecrest Winery and Clover Hill Vineyards and Winery.
Accommodations: Hyatt Place
Day Three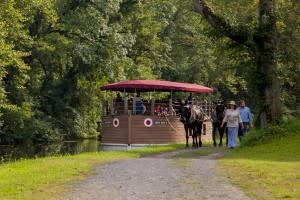 The birthplace of the industrial revolution in Lehigh Valley owes its origins to the discovery of "stone coal," hard, anthracite, hot burning coal that fueled local iron furnaces producing the first manufactural items in the region and heating the homes of millions of city residents. It was a revolution driven by exceptional people who built the Delaware and Lehigh Canal, now celebrated in a National Heritage Area. You will learn their story at the National Canal Museum in Hugh Moore Park. Be sure to take the mule-drawn Josiah White II Canal Boat to get a feel of what it was like to ply the canal in its heyday. If you're ready for lunch while still in Easton, we recommend Mesa Modern Mexican.
Just north in Nazareth, not many people know that the guitars Willie Nelson, Bob Dylan and thousands of other musicians play are handmade right here in Lehigh Valley by the C. F. Martin & Co. Their story began in 1811, when Christian Frederick learned his craft in Vienna, Austria from a renowned guitar maker. We've arranged for you to have the two hour behind the scenes tour (the enhanced version of the factory tour) to witness firsthand the details and exquisite craftsmanship that goes into each Martin Guitar. While there, you'll also want to tour the museum with more than 200 rare, vintage instruments ranging from Stuffer and Ditson to pre-War and sustainable wood models. Musical giants such as Gene Autry, Johnny Cash, Elvis and John Mayer who have played Martin's are honored in the museum. The Guitar Maker's Connection is housed in the original Martin factory in the heart of Nazareth.
This evening for dinner, we recommend Porters' Pub, one of the most fun locations on the Lehigh Valley Ale Trail, before attending a performance at the State Center for the Arts in Easton (schedule permitting).
Accommodations: Hyatt Place
Day Four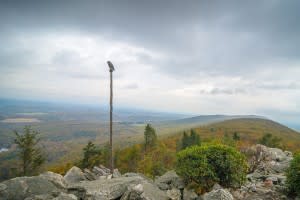 This morning you can be watching as the sun rises over Hawk Mountain, where 2,600 acres is home to scenic overlooks, eight miles of trails, a Visitor Center, a native plant garden and the Acopian Center for Conservational Learning. Since no hiking guides are available, we will equip you with photographic guides to the trails. The protected sanctuary, surrounded by more than 13,000 acres of private and public land is a focal point for raptor migration, which you can view up close and personal.
On your way back from Hawk Mountain, you can begin the Lehigh Valley Covered Bridge Trail in Schnecksville at Rex's Covered Bridge, ending at Bogart's bridge in Allentown. Along the way, you can also view locations on the Lehigh County Log Cabin Trail in western Lehigh County. At that point, you are very near Blue Mountain Vineyards with panoramic views of the mountains. A California-style tasting room offers European ambiance and friendly staff.
If you're so inclined you can also visit Galen Glen Vineyard and Winery where a new European-inspired tasting room invites you to sample hand-crafted wines. And of course, you have to stop at family candy makers, Josh Early Candies for great chocolates. We recommend dinner at Emeril's this evening to round out your enjoyment of the area's best restaurants.
Accommodations: Hyatt Place
Day Five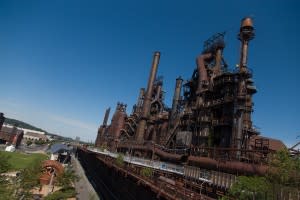 Before leaving the area this morning, we wanted you to have one more adventure that will imprint a final memory of Lehigh Valley. An air tour over Lehigh Valley with Gateway Aviation will get you high above the valley, where you can see things that are difficult to imagine from the ground.
You will be amazed by the size and scope of the Allentown rail yards, which witness millions of tons of freight passing through on a regular basis. From overhead, you can also see the full scope of the Bethlehem Steel complex, which stretches over four miles long on the river bank and more. You'll also be able to admire the broad expanse of green that surrounds the Lehigh River and the wonderful river itself winding its way through beautiful valley.
From there, we wish you a safe and pleasant journey home, via the Delaware River Scenic Byway and the Delaware Valley Scenic Drive if they are on your route.
The Best of Lehigh Valley 5 Days/4 Nights
Experience the best of Lehigh Valley all in one trip.
Your package includes:
Day One
Bethlehem Visitors Center
1810 Goundie House
Guided Historic Walking Tour*
Banana Factory Arts Center*
Accommodations at Hyatt Place*
Day Two
Allentown Art Museum of the Lehigh Valley*
America on Wheels*
Biery's Port Historic District
Lehigh Valley Wine Trail
Vynecrest Winery Tasting*
Clover Hill Vineyards and Winery Tasting*
Accommodations at Hyatt Place*
Day Three
National Canal Museum at Hugh Moore Park*
Josiah White II Canal Boat Tour*
Two-Hour Behind the Scenes Martin Guitar Tour*
Martin Guitar Museum*
Guitar Maker's Connection
Accommodations at Hyatt Place*
Day Four
Hawk Mountain Sanctuary
Acopian Center for Conservational Learning
Lehigh Valley Covered Bridge Trail
Blue Mountain Vineyards Tasting*
Josh Early Candies
Accommodations at Hyatt Place*
Day Five
Gateway Aviation Air Tour*
Delaware River Scenic Byway
Delaware Valley Scenic Drive
Prices starting at:
$629 per person, double occupancy
* included in package cost
OPTIONAL INCLUSION / ADD-ONS:
State Theatre Center for the Arts Performance
Galen Glen Vineyard and Winery
Prices starting at:  $629 per person, double occupancy * Included in package cost
Packages available March through October, based on availability and seasonal rate fluctuations. Single, triple, quad and hotel only pricing available. Vouchers and complete directions provided for each trip. Air and car hire (trip cannot be completed without a car) booked by others. Package can be customized to suit client's needs.
To Book Call: 877-485-8747 or E-mail: quotes@americandrivingvacations.com