You might remember that a while back, we named my Top Five Mac & Cheese dishes in Lehigh Valley. Apparently, you all love mac & cheese almost as much as I do (but not quite). The comments on both the blog and social media were loaded with recommendations of places that I had missed, all of which I took note of.
With so many new restaurants popping up around Lehigh Valley, we decided that it was time to do a reboot of the list, featuring restaurants that have amazing dishes, but either weren't around or I hadn't been to when the first edition of the list was published.
As with the first list, these are ranked totally to my own personal discretion- but I can promise that they are all delicious! Part Two of the list includes, not five, but six (plus an honorable mention) new and new-to-me restaurants to enjoy everyone's favorite dish. And just like last time, I want to hear from you! What other places do I need to check out to get my fill of mac & cheese goodness?
Honorable Mention: This one gets a quick mention by default. Inside the new PPL Center in Downtown Allentown, there is a stand that sells a variety of mac and cheeses. Choose from plain, crab, bacon, and others. It's a tasty treat whether you're in town for a Lehigh Valley Phantoms game, or one of the other great entertainment options. You can find the stand tucked just to the side of the Phantoms store inside the main entrance to the arena.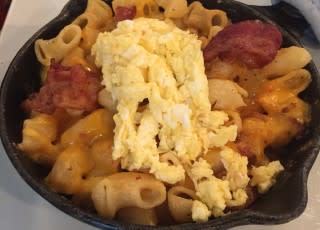 6. The People's Kitchen in Bethlehem. This quaint little spot is the perfect place for breakfast or lunch, and quite possibly the only place where mac and cheese is encouraged for breakfast. Yup, you read that correctly. Their Breakfast Mac & Cheese features a hash brown crust, bacon, and the option to add an egg on top (we opted for scrambled here, but I'm sure any style would be great).
5. The Hamilton Kitchen & Bar in Allentown. Located just across the street from the PPL Center, the Hamilton features a mac and cheese dish on their appetizers menu. But don't be fooled- this is a hefty portion and is definitely large enough to eat as a standalone meal or to share with others as an appetizer.
4. Corked Wine Bar & Steakhouse in Bethlehem. This Smoke Gouda Mac is slightly different than a traditional favorite, as it features bowtie noodles and truffle oil to add to the decadence. Diners also have the option to add pancetta or lobster to the mac (or both if you're really feeling it). Here, I opted for the addition of pancetta, which was delightful.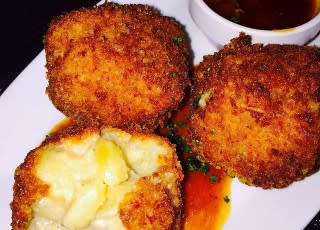 3. Roar Social House in Allentown. Another new location in Downtown Allentown, and another unique twist on my favorite dish. Don't miss out on their Pork Belly Mac & Cheese balls, featured on their appetizer menu. Fried to perfection, these balls of mac and cheese include pieces of pork belly and a yummy barbeque-like sauce for dipping. I eat these basically every week and I'm not ashamed.
2. The Mint Gastropub in Bethlehem. When a restaurant has a entire heading of the menu dedicated to mac and cheese, you know things are about to get serious. Options include truffle, Maryland crab, mushroom, chipotle bacon (pictured here) and a ton of others. No matter what variety you choose, I promise they are amazing. A mac and cheese sampling night may be in my future....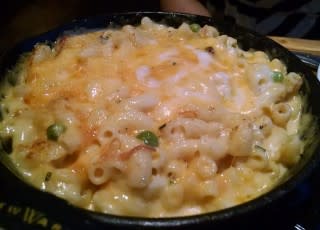 1. The Bayou in Bethlehem. Sometimes, you just need a good classic version of mac and cheese to hit the spot. And at the Bayou, they do just that. Orders of Ty's Mac and Cheese dish arrive at your table bubbling in a skillet, with more cheese than you could ever hope for. The recipe also includes peas and ham hock to give it a nice southern twist.
So, Lehigh Valley. Loosen those belt buckles and get ready for a tour of all things cheesey goodness. I can't wait to see where your suggestions have me dining next!