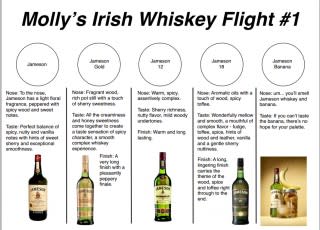 The month of March comes in like a lion, gets ready for a fun St. Patrick's Day weekend, puts away winter sweaters and goes out ready for Spring and Summer fun.
But, let's not look too far ahead of ourselves just yet and focus on the month where everyone, for at least a few days, is Irish. What better way to learn about Irish heritage than by saddling up for a Whiskey Tasting Class?
The first class will be held tonight, March 5, beginning at 8 p.m. at Molly's Irish Grille & Sports Pub in Bethlehem at E. 4th Street at New Street.
The whiskey tasting class will run for four weeks in March and will cover five different Irish whiskeys at each class. Molly's has the most varieties of Irish Whiskey in Lehigh Valley.
The classes will be held by self-proclaimed whiskey expert, Silagh White. (Her name is pronounced "Shelia." C'mon, how much more Irish can you get?)
"I'm so glad there's a place in Bethlehem where I can expand my understanding of God's greatest gift to mankind: Irish Whiskey," said White. "As a person ages, while their eyes and ears may fail, their sense of taste becomes more refined. I'm looking forward to understanding the subtle taste differences among various distilleries and blends. Anyone who wants to develop this understanding is more than welcome to take the journey with me."
Each class will consist of White going through the selected whiskeys and identifying their specific tastes. The four classes will result in a blind taste test "final" with the person tasting the most correctly receiving a prize. Participants can come to any of the Tuesday classes they wish with a price range of $25 per class. Participants should come to Molly's at least 15 minutes prior to the beginning of each class and sign up with the bartender.
"We're hoping to get everyone in the Irish mood with these classes," White said. "Come out and learn and enjoy!"
Take a look at each week's selections below.
[gallery ids="14268,14269,14270,14271"]