Take me out to the ball game, To Lehigh Valley's Coca-Cola Park, home of the Lehigh Valley Iron Pigs, one of the most beautiful parks in all of minor league baseball.
Take me out with the crowd; And a crowd there will be! The IronPigs have drawn over five million fans since the gates opened in 2008, averaging a minor league baseball best 9,011 fans per game!
Buy me some peanuts and Cracker Jack, While peanuts, cracker jack and even hot dogs are "classic" baseball fare, and you can get them here in Bacon USA, there are obviously plenty of other options!
Mac Daddy Dog (An all-beef hot dog topped with mac n' cheese, bacon and green onions.)
Mac 'N Cheese Parfait (Layers of mac n' cheese and pulled pork topped with bacon and scallions)
Build Your Own Nacho Bowls (toppings to choose from; chicken, steak, bbq pork, cheese sauce, chili sauce, guacamole, jalapeño peppers, black olives, sour cream, lettuce, and tomato.)
BBQ Pulled Pork (featuring a thick strip of bacon, nacho cheese & onion rings!)
Bacon Funnel Cake
Fried Bacon
Buffalo Chicken Cheesesteak
Chicken Cordon Bleu Cheesesteak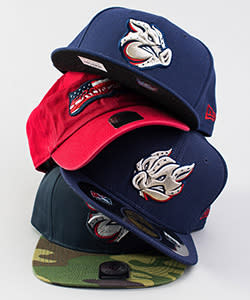 I don't care if I never get back. And let's face it between the IronPigs' games and other special events like Lehigh Valley Food Truck Festival, 4th on the Field, Lehigh Valley Cider & Wine Festival, Bacon 5K Challenge, and the Bacon and Brews Bash, you may never want to leave the ballpark.
Let me root, root, root for the home team, And representing this team is easy once you've figure out which swag you want. For the retro powder blue Phillies jersey, to the Bacon USA, to the Cheesesteaks, you'll be representing in style. The Lehigh Valley IronPigs are the only minor league team to don uniforms from Majestic, the company who creates the big league gear (and also located in Lehigh Valley).
And besides those on field jerseys, you can pick up Star Wars replica Jerseys featuring the Dark Side, the Rebels, R2-D2, Yoda, and Darth Vader. There are plenty of jersey auctions throughout the season with enough themes to keep you cheering on the 'Pigs in style.
If they don't win, it's a shame. But winning isn't everything. Between the Pork Races and Dancing Dirt Dudes, Sunday's "Kids Run the Bases," Monday's "Dollar Dog Night," Wednesday's "Ladies Night," Thursday's "Extended Pre-Game Happy Hour," Friday's "Fireworks," and beginning in May Saturday's "Fireworks," there's a lot more going on than just wins and losses. And that's just the regular stuff! That doesn't cover "Star Wars Night" on May 6, "Bacon & Eggs Night" on May 16, "Superhero Night" on May 21, "Salute to Philadelphia Night" on June 10, and "Top Gun Tribute Night" on August 1, just to name a few.
For it's one, two, three strikes, you're out, It's a game of rules, written and unwritten, played on the field and in the mind.
At the old ball game! To quote Annie's narration at the end of Bull Durham, "Walt Whitman once said, 'I see great things in baseball. It's our game, the American game. It will repair our losses and be a blessing to us.' You could look it up."
We'll see you at the ballpark... Go 'Pigs!