Top o' the mornin' to ya!
That's about all I have when it comes to Irish sayings and phrases. Excuse my corniness. But I do consider myself to have a pretty good understanding of Irish culture, because I spent a week there at the end of this past June. A week was enough time for me to soak in all the unique aspects of the Irish lifestyle – a.k.a eating and drinking well.
While Ireland has many incredible things to offer, one of my favorite things about the country was the pub life. The pubs are alive and vibrant, full of people smiling and laughing. Walking into an Irish pub somewhat feels like you're walking into a room full of family and friends. I've been looking for a place that captured the energy of pubs, and I've found it at McCarthy's Red Stag Pub and Whiskey Bar.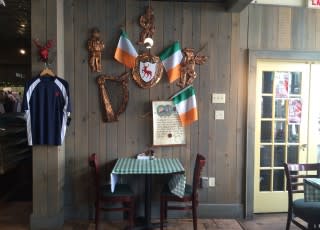 McCarthy's Red Stag Pub and Whiskey Bar is located on Main Street in Bethlehem. Walking inside, I felt like I was transported back to Ireland. The wooden walls adorned with traditional Irish sayings, copper harps and dancing men and Irish flags instantly took me back to Ireland. The Irish take great pride in their country and the Irish flag is EVERYWHERE, with the streets covered in orange, white and green. McCarthy's certainly has the Irish pride part covered. The tunes of Irish music floated through the air. In the back was a bar - I swear it had to have been transported from Ireland. In typical Irish style, the bar's centerpiece was a large "Guinness" sign. In case you didn't know, Guinness is made in Dublin, and the Irish love their Guinness!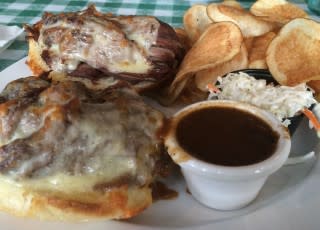 Now… onto my favorite part - the food. McCarthy's serves traditional Irish and UK cuisine. If you want to participate in British teatime, McCarthy's has an entire wall filled with a variety of teas, complete with little teapots. The pub opens at 10 a.m. and serves breakfast until 4 p.m. Starting at 11 a.m., you can order anything from the rest of the menu. McCarthy's menu features traditional items like cottage pie, bangers and mash and fish n' chips. But what really set their menu apart are the unique twists the pub puts on their dishes.
My personal favorite is the roast beef melt, a warm open-faced sandwich made with thinly sliced roast beef, melted cheddar, and an onion gravy on their toasted house-made blaas roll. The dish is served with a side of fresh cut "crisps," which are potatoes that are cut like potato chips but cooked to a French fry consistency. Trust me, these crisps are amazing. My mom raved about her roasted red pepper, onion jam and Brie melt, which is an open-faced melt made with charred red peppers and a sweet black currant onion jam, with melted Brie on their toasted house-made blaas roll. She complemented the melt with the spring harvest salad, which featured field greens with fresh berries, roasted almonds, Brie, and blueberry vinaigrette.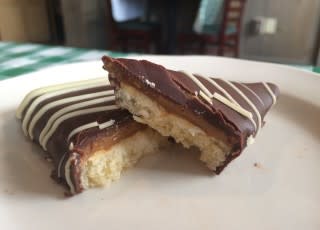 To complete an already amazing meal, we treated ourselves to a fresh baked "Millionaire Bar," which is a shortbread covered in creamy caramel and white and dark chocolate. McCarthy's pastry chef Katie makes these delicious baked goods by hand daily, and I personally wish I could hire her to make me sweets at home. The pub is currently partnering with Easton's Bank Street Creamery (an ice cream place I featured in my article 5 Great Places to Enjoy Al Fresco Dining in Lehigh Valley) to serve ice cream flavors such as honey brown bread, McCarthy's Irish Cream, and Guinness Chocolate Brownie. You heard me right with those flavors.
Get the full Irish experience and hear live traditional music every Sunday during their "music brunch," or every Thursday, Friday and Saturday nights. For all you music players out there, McCarthy's has open music session nights during the first Friday of every month. If you want to take a trip to Ireland, minus the lengthy flight, McCarthy's Red Stag Pub and Whisky Bar is the place to go.
Find them on Facebook, follow them on Twitter at @RedStagPubPA and be sure to use the hashtag #RedStagPub on Instagram. Don't forget to check out their menu here.