Sure, you've had plenty of Weyerbacher beers over the years.
There's my favorite, the complexly flavored Merry Monks There's Verboten, the 5.9% ABV, is a Belgian-style Pale Ale with an American twist. There's the seasonally awesome Imperial Pumpkin Ale and... well, let's just say that there are a ton of Weyerbacher beers.
However, even though you've tasted them and have picked out your favorite, have you ever visited to where they are made? For some, it's almost crazy to find out that Weyerbacher beers are ALL brewed in Easton.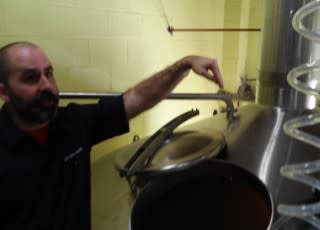 "All the beer is brewed here, on site, right in Easton, PA," Brewmaster Chris Wilson, said. "We also use Easton water, which is very low in minerals. All we do is take out the chlorine, but it's the same water that all Easton citizens drink and makes Weyerbacher what it is."
You and your friends can see exactly how Easton  makes Weyerbacher what it is by visiting for free tours and free samples.
Weyerbacher's Visitors Center is open noon to 7 p.m. Monday through Saturday offering free samples as well as logo merchandise and to-go beer sales. Free tours are offered on Friday at 5:30 and Saturday at 1 p.m., 3 p.m. and 5 p.m. and require no reservations (groups of 15 or more should contact in advance).
Tours range from 30 to 40 minutes in duration and cover the history of Weyerbacher and the brewing process. The friendly tour guides will attempt to answer all your questions and leave everyone feeling much more knowledgeable about the craft beer industry. Visit www.weyerbacher.com/visitorscenter for more details.
Did we mention free samples and free tours?
Okay, good. Just making sure.