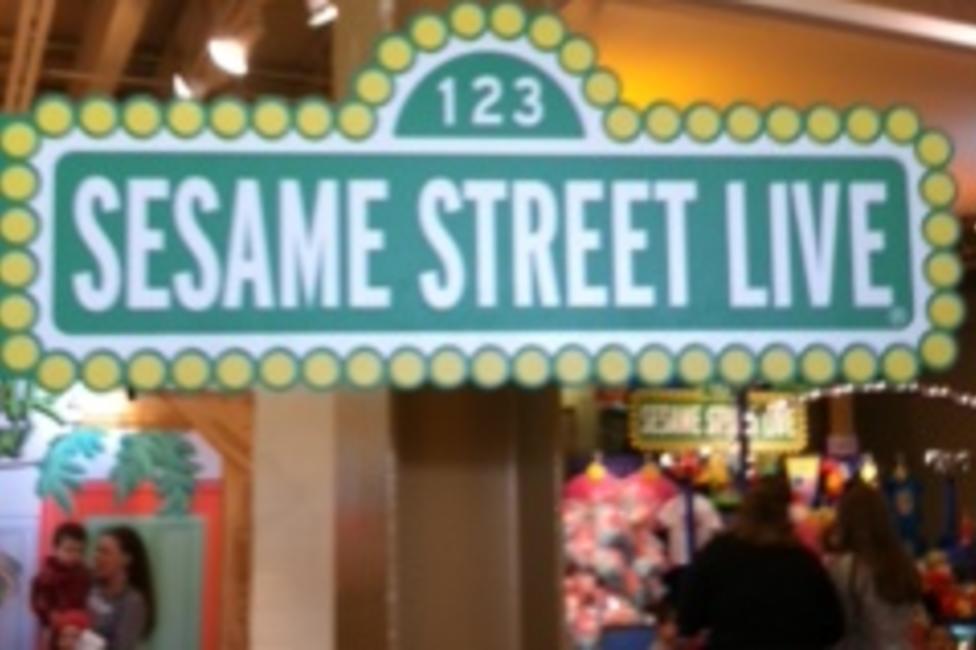 First you close your eyes, second imagine a place, and third you are there!
Rosie and I attended 1-2-3 Imagine, Sesame Street Live at Stabler Arena this past Friday night.  We brought our friends, Collene and Misty, to share in the magic of using your imagination.
When we arrived, Sesame Street had a "Playzone" set up for an hour before the show and in true Rosie fashion she only wanted to chase her friend Collene around in circles and go to the bathroom. We did manage to snap a few pictures under the Sesame Street sign.
After we got our hot dogs and juice boxes, we settled down and waited for the song and dance imagination extravaganza to begin. Rosie and Collene's faces lit up when they saw Big Bird up close and personal (to tell you the truth, so did mine). Our favorite characters were all there; Bert & Ernie, Cookie Monster, Elmo, The Count and many others. It was a wonderful message about using your imagination to take you on wonderful adventures. We even picked up a pair of imagination binoculars from the gift shop. Stabler Arena is a great venue for this family friendly show, with plenty of room to participate in the PlayZone and see the show as there really isn't a bad seat in the house.
Now if Rosie could only imagine what the inside of every bathroom looked like, instead of actually disrupting our entire aisle during the big finish, we would have really accomplished something!