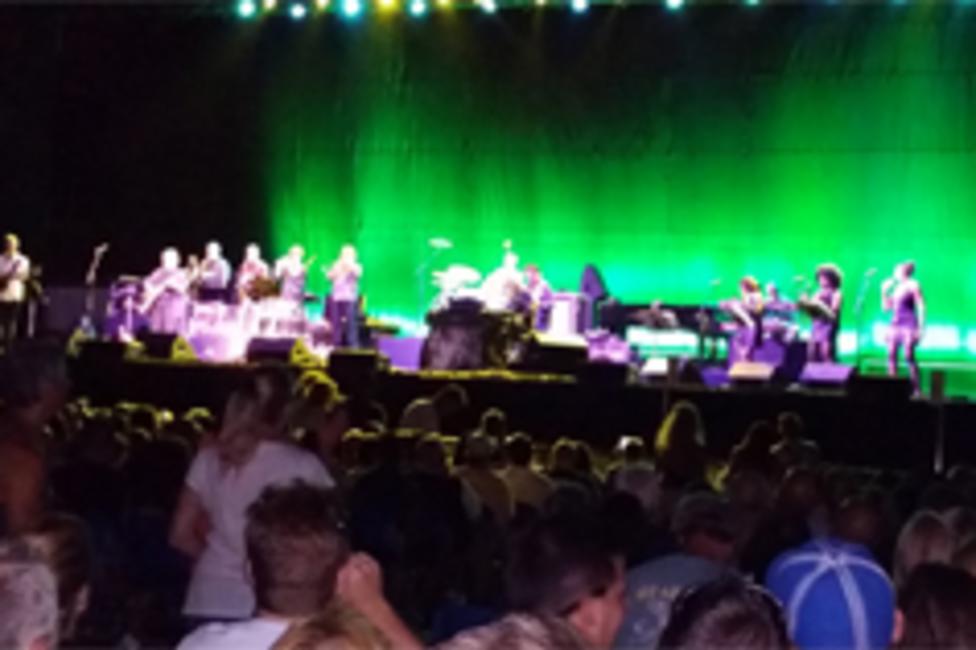 Setting the Stage
On a beautiful August summer evening Steely Dan, currently on their 2014 JAMALOT EVER AFTER TOUR,  dropped in and left an indelible memory on the Lehigh Valley last night over the course of their show at the Main Stage at Musikfest.
After opening with a piece entitled "Cubano Chant", dedicated to American Saxophonist and keyboardist Cornelius Bumpus, principal musicians and songwriters Donald Fagan and Walter Becker, backed by their 13-piece Steely Dan Band, proceeded down memory lane with a string of their most famous hits.  Songs two through five included personal favorites "Black Cow," "Aja," "Hey Nineteen," and "Black Friday".  These performances set the tone for the musical evening that unfolded.
A mixture of young adult and older, the fans remained festive and exuberant throughout the show.  I had a sense that the younger fans, who danced and celebrated the entire time, were trying to "tell" the older fans, "Hey, come on you guys… this is one of YOUR generation's iconic bands… get up and dance!"  It seemed to work in the section my friend and I were watching from, which I think drives the point that Steely Dan, after all their hit records and songs and band configurations over the years, has made timeless music.
A Brief Steely Dan Timeline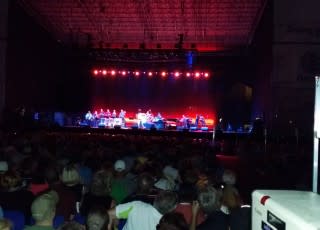 Becker and Fagan met at Bard College in Annandale-on-the-Hudson in 1968.  Going to school, living a beatnik existence and listening to music was what it was all about.  Originally signed in the early '70s by ABC/Dunhill Records in Los Angeles as ABC "staff songwriters," they broke out on their own as Steely Dan with the release of their 1972 "Can't Buy A Thrill" album.
What happened over the course of the next eight years was a procession of seven commercially and critically acclaimed records.  In 1975, in the middle of this massively successful run, they disbanded the original Steely Dan band, continuing to make and record music as a studio band only… similar to The Beatles after 1966.
From the beginning, their music has been a sophisticated blend of jazz, rock, funk, R&B and pop, with more dominating jazz and pop sounds enhanced by distinct backing vocals and harmonies after dissolving the band in 1975.  Hidden song structures, varying time signatures and chord structures are cornerstones to almost every Steely Dan song.
Ahh yes… very difficult music to play, yet easy to listen to… which is not to say their music can be classified as easy listening.  Sounds like a Steely Dan lyric… sorry about that.
With Becker & Fagan, the lyrics only tell part of the story… they're fascinating!  Maybe a separate blog about this in the future.
Back to the Show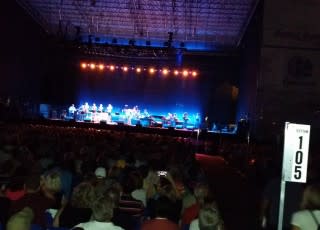 In the middle of the show last night, my friend Rick and I saw an actual "soft mosh circle" form.
Walter Becker proceeded to give a 12 minute band introduction; a running stream of consciousness, unfiltered, filled with both humor and praise for his band members.
Many of their greatest hits were performed last night, with the individual songs taking Rick and I back to our high school "daze," especially the rousing rendition of "My Old School", which had the entire crowd on their feet from that point in the show until the closing "Reelin' in the Years," a song from their debut 1972 album.  "Kid Charlemagne" was an utterly perfect encore, followed by the "Theme from The Untouchables," which was bizzare, yet completely in character for Becker and Fagan.
Musikfest must "Do It Again" next year with timeless and iconic Steely Dan!