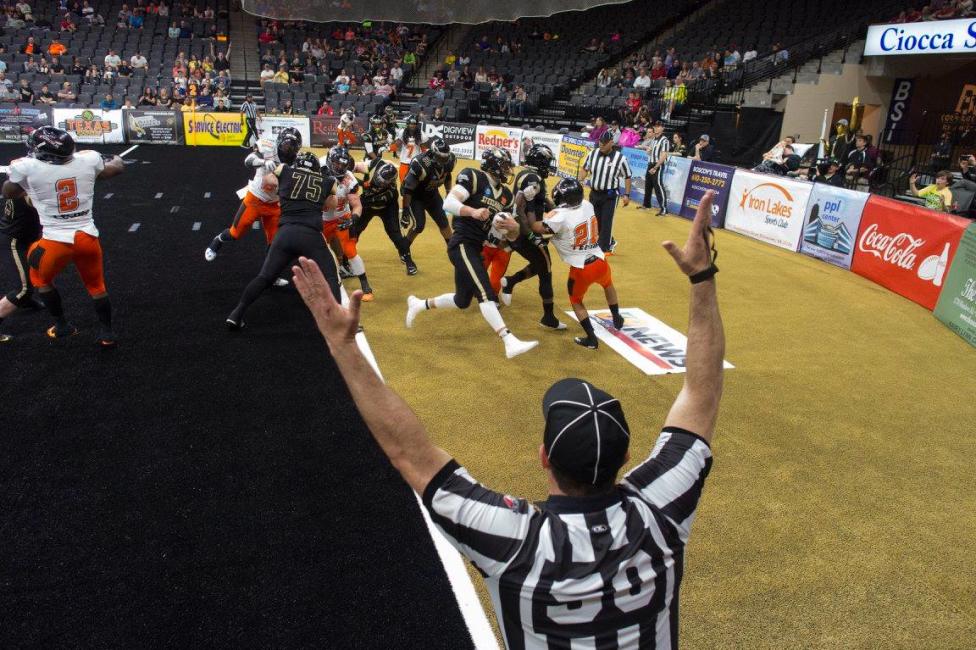 Are you the type of person that gets sad when football season comes to a close? I feel you. My Sundays are lonely once the Super Bowl wraps up in February. But never fear - you can still enjoy football right here in Lehigh Valley.
Playing March through late May, the Lehigh Valley Steelhawks take the game to the arena. Known as the 'fastest game on turf,' you're bound to have a blast at these games hosted at the PPL Center in downtown Allentown.
Part of the American Indoor Football (AIF) league, the Steelhawks are now in the sixth season in Lehigh Valley. Read on for some of our favorite reasons to head out to one of their games this season.
Fun for the whole family. Unlike some NFL games, you'll find Steelhawks games to be fun for all ages. From on-field promotions that are perfect for kids to join in, to post-game celebrations, these games are welcoming to any and all age groups.
High scoring & fast paced. Indoor football games are typically very high-scoring, and Steelhawks games are no exceptions. Because the field only spans fifty yards, the games are filled with four action-packed quarters. Unique to indoor football is the 'uno' point. If the ball goes through the uprights on kickoff, the kicking team receives a single point.
Entertaining. The antics of Talon, the team's mascot. Pre-game and halftime entertainment from the Precious Metal Dance Team. Game-break fun to pass the time during time outs and breaks between quarters. You won't be bored during these games!
The rivalries. The newly restructured AIF league brings new rivalries to Allentown. In-state teams include the Central Penn Capitals of Harrisburg and the Philadelphia Yellow Jackets. These match-ups are sure to be exciting games with the opportunity for fans of opposing teams to attend a game within a drivable distance.
Affordable. Best of all? You can treat the whole family to a day of fun without breaking the bank! Tickets for Steelhawks games are affordable, and all seats leave you with an excellent view of the field.
For more details on the Lehigh Valley Steelhawks, including game schedules and ticket availability, check out their website. We hope to see you out at a game this season!
[gallery ids="23963,23964,23965,23966,23967"]