Steel Street Tours owner Chris Johnson says the lookout on Lehigh University's campus is probably her most favorite stop.
"People love it up there," she said. "You're really able to see all of Bethlehem. It's a great spot to visit."
The lookout, which is located near the top of South Mountain, is just one of the many locations that Johnson and her Steel Street tours bus takes visitors and residents while buzzing through Bethlehem.
"There is a lot of history within Bethlehem," Johnson says. "And, even if you're a resident, there are some places you can walk by every day and maybe not know too much about."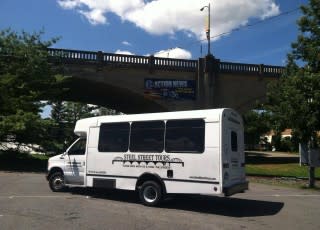 Steel Street Tours is a new, educational way to tour The Christmas City. Tours wind through the historic city, hitting the popular sites such as SteelStacks and Lehigh University, but Johnson also takes time to visit places that, while they may not be as routinely thought of as historic, are just as much a part of what has made the city tick.
"We go by Liberty High School and give some information there," she said. "We also drive by the Bethlehem Dairy Store and talk about why that was and is so important to the area."
Steel Street Tours also visits local restaurants and other landmarks, making the tours a true overview of the city at large. What makes Steel Street Tours unique is that passengers are encouraged to depart the bus at certain spots to visit sites and look around.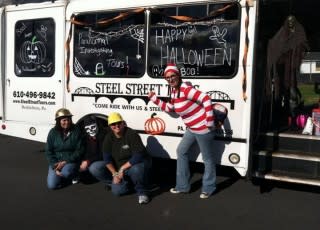 A relatively new company, Steel Street Tours only began carting history buffs around the area this past summer, but the word, and the variety of tours, is quickly growing.
This past Halloween, Steel Street Tours conducted fun "haunted" tours that visited local buildings that are rumored to be inhabited by ghosts. And, this month, they have begun destination "mystery" haunted tours which visit locations that are not told to passengers in advance. Once on site, passengers are allowed to go on a two hour ghost hunt with the aid of guides.
For more information on how to purchase tickets, when tours are available, or to organize your own tour, visit www.SteelStreetTours.com or call 610-496-9842 and see Bethlehem like never before.
Be sure to like them on Facebook!