From national tours of Tony Award-winning musicals, to concerts from timeless classics and so much more – there's something for everyone tucked inside each season that the State Theatre Center for Arts hosts. Located along Northampton Street in downtown Easton, this theatre has been entertaining audiences for decades. In fact, their 2016 – 2017 marks their 90th year. But the theatre that stands today didn't always exist as it does in its current state.
Originally, the space was occupied by the Northampton National Bank. Visitors today can still admire the original granite facade and foyer that welcome patrons to the theatre today. After the bank was demolished, Easton welcomed the Neumeyer Theatre to town. This small theatre operated from 1910 through 1925 under a variety of names; transforming from the Neumeyer Theatre to the Northampton Theatre, and finally to the Colonial Theatre.
In 1925, William H. Lee, an architect from Philadelphia, was brought on to expand the theatre and convert it to a higher level of grandeur. The mid-1900s (1930 – 1960s) saw large changes in trends for arts as the Vaudeville era came to a close. Patrons were now interested in 'talking pictures,' as movie companies began to take a stronghold in American culture.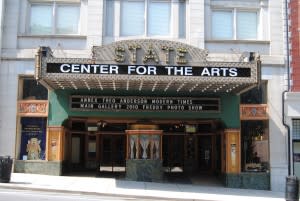 As the 1980s approached, the theatre faced threat of demolition. It was at this point that a group of local citizens rallied together to raise money to purchase the theatre to ensure that it would be enjoyed for years to come.
The State Theatre Center of the Arts continued with years of success, hosting 60,000 patrons for a total of 53 performances during the 1997 -1998 season. The following year, those numbers were almost doubled with nearly 100,000 patrons attending 92 performances. In 2001, the State Theatre celebrated its 75th season by hosting more than 100 performances in one year.
One of the most well-known events for the theatre, the Freddy Awards, made its first appearance in 2003. This annual awards ceremony honors local high schools for excellence in theatre. In its inaugural year, 22 high schools from Lehigh and Northampton Counties in Pennsylvania and Warren County in New Jersey were honored at the event. The ceremony is aired by local news station, WFMZ Channel 69. The State Theatre and WFMZ were awarded Mid-Atlantic EMMY Awards in both 2005 and 2011 for Outstanding Performing Arts Program.
And, there's no slowing down. The State Theatre Center for the Arts continues to host outstanding performances year after year. Visit them online at StateTheatre.org to check out details on upcoming performances.