From national tours of Tony Award-winning musicals, to concerts from timeless classics and so much more – there's something for everyone tucked inside each season that the State Theatre Center for Arts hosts.
Located along Northampton Street in downtown Easton, this theatre has been entertaining audiences for decades. In fact, their 2016 – 2017 marks their 90th year. But the theatre that stands today didn't always exist as it does in its current state.
Originally, the space was occupied by the Northampton National Bank. The bank was constructed in 1873, but demolished in 1910. Visitors today can still admire the original granite facade and foyer that welcome patrons to the theatre today. After the bank was demolished, Easton welcomed the Neumeyer Theatre to town. This small theatre operated from 1910 through 1925.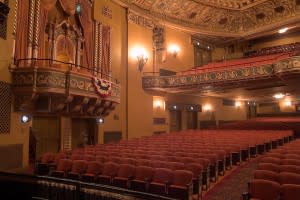 In 1925, William H. Lee, an architect from Philadelphia, was brought on to expand the theatre and convert it to a higher level of grandeur. But as the years continued on, the theatre saw even more change as it shifted to serve as a movie theatre and concert venue.
As the 1980s approached, the theatre faced threat of demolition. At that point, a group of locals rallied together to raise millions of dollars to help restore the theatre to its original splendor. Today, the State Theatre Center for the Arts hosts more than 100 events throughout the year, making it a key venue throughout Lehigh Valley.
The State Theatre Center for the Arts also boasts spectacular facilities to host your next meeting or event. The main performance hall can seat large groups of up to 1,500. Nestled on the second floor of the building, the Acopian Ballroom can accommodate 200 for a seated dinner or 300 for a reception. This space also features a full kitchen. For events on the smaller side, consider the Easton Hospital Gallery which can comfortably accommodate 200 guests.