April in Lehigh Valley means baseball has once again returned to beautiful Coca-Cola Park. The crack of the bat, the smell of hotdogs, the warm of the sun, the smell of bacon from your shirt (yes, really) and the roar of the crowd.
It's all of the things that we miss during the long winter off-season, that was much too long this time around.
The season began Monday April 7 in a cold rainstorm, but that home opener was not to be and on Tuesday April 8 at just after 7 p.m., the first pitch of the season in Coca-Cola Park was delivered from pitcher David Buchanan to catcher Cameron Rupp, only it never reached Rupp as it was fouled off by Buffalo's Anthony Gose.
The IronPigs would go on to lose that game and eventually ended their first homestand of the year going 2-5, but that's not the big news.
[caption id="attachment_18968" align="alignleft" width="320"]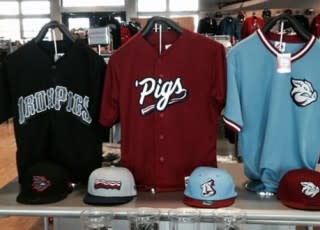 New IronPigs Uniforms[/caption]
The IronPigs teased the season and the senses with their #SmelltheChange, culminating in the unveiling of their new uniforms, logos and merchandise, as well as, bacon toppings on almost any food item at Coca-Cola Park.
The highlight of new clothing technology is the new bacon scented shirt. That's not all that's new this year. There is the addition of a gluten-free food stand, Jimmy Walck the new Voice of Coca-Cola Park, the announcement of a future French Fry and Funnel Cake stand and plenty of giveaways during the first and the rest of this season's homestands.
That's how it usually starts, a little wet and chilly in April, with great announcements of things to come. Then towards the end of April the weather warms up and the nights are cool and no longer cold we truly know baseball season is back.
I can't promise that every game from here on out will be free of a little chill in the air or precipitation, but once we're out of the first homestand in April, the weather is continually improving until those hot summer nights in August.
All I know, is that baseball is back! Go to the Park, cheer on the 'Pigs and eat some good food. Win or lose, you're going to have a good time with your friends, family and fellow fans. Baseball is back and that means Spring is here and Summer is just around the corner!
George went to a game last year to show everyone how to "Live Like a Local" at an IronPigs game!
http://www.youtube.com/watch?v=ArK57Al378w