October brings out the haunted side of Lehigh Valley. Whether fact or fiction, you're in for a spooky good time. Make the most of the season with the Halloween & festive fall activities throughout the region.
Ghost Tours & Stories 
Head to Nazareth to join the Moravian Historical Society for a Spooky Lantern-Led Tour (October 13-14, 20-21 & 27-28) which will take you through an overview of the early Colonial Era Moravian lifestyle, a visit to the two oldest Moravian buildings in North America, and includes stops at important community buildings to explore important crafts, industries, and personalities.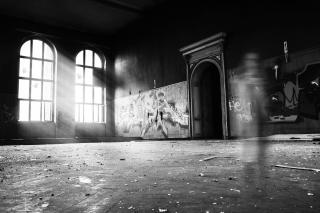 See Crystal Cave (October 13-14, 20-21 & 27-28) by a different light! Guides, wearing Victorian clothing, present a recreation of the original Crystal Cave tour from the 1870s, guided by the glow of hand-held lantern light. Hear folklore, ghost stories, and history of Crystal Cave that are not part of the modern day tour. 
If you haven't had your fill of haunted tales, consider taking a spirited ghost tour (October 19) at The Sayre Mansion in Bethlehem. Recently featured on the Travel Channel's show Ghosthunters, your guide will walk you through some of the areas that have had the most reported activity. In Easton, you can find guided ghost tours departing from the Sigal Museum Fridays, Saturdays, and Sundays in September and October. 
The last Friday and Saturday in October, the grounds of the National Canal Museum transforms into a spooky atmosphere for Ghost Stories on the Canal (October 27-28). This event features a special Halloween ride on the Josiah White II, a ghost walk to the locktender's house, pumpkins, hay ride, crafts and more.
Still looking for more ghost encounters, you'll want to read these paranormal haunts and make it an overnight by staying in one of the haunted guest rooms at Historic Hotel Bethlehem or the Sayre Mansion.
Please note: Many of these experiences are weather-dependent and do fill up quickly, so it's recommended to reserve your space early. Call the host organization directly to book your tour. 
 
Family-Friendly Fun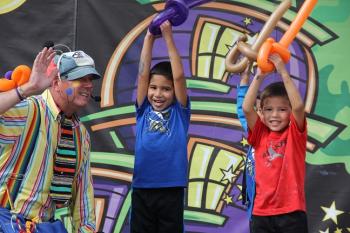 Head to Dorney Park's Great Pumpkin Fest. Make a full day of it and head to Da Vinci Science Center to check out their Jack-O-Lantern Lane (through November 5) exhibit where you can explore optical illusions and sensory tricks. 
Want to get in touch with the great outdoors? Take your trick or treating fun to the Lehigh Valley Zoo for Boo at the Zoo (October 14 & 15, 21 & 22, and 28 & 29). Back for three weekends this year, the event offers a full lineup of interactive experiences including spooky animal mingles, tours inside Lorikeet Landing, and more. 
Or, head to the Crayola Experience for the return of Screamin' Green Hauntoween (through October 31), an event that features monster-ific crafts and special spooky happenings all month long. Enjoy trick-or-treating and a live slime-themed show that's fun for the whole family!
Stroll among thousands of illuminated hand-carved pumpkins displayed in unique and artistic ways at The Electrifying Jack O Lantern Experience at the West End Fairgrounds. It's an Instagram-worthy experience and a real treat for the eyes.
If you're looking to take in some of the season's colors, consider a hike at Hawk Mountain Sanctuary, movie at Shankweiler's Drive-In, or a pumpkin train ride with WK&S Railroad. 
Scary Good Times
When nighttime falls, the scares come out at Dorney Park & Wildwater Kingdom. Halloween Haunt (select nights through October 28) is back with haunted mazes, scare zones, rides, haunted attractions and monsters prowling the park.
Join the biggest living-dead dance party on Friday Oct. 27 at Musikfest Cafe and be transformed into a bloody house of horrific fun during the SteelStacks' annual Zombie Ball. This undead event features DJ AJ Stack spinning all the Halloween hits from "Monster Mash" to modern numbers, sure to rattle bones on the dance floor. 
Find even more things to see and do during the fall season.