If you're looking for a spontaneous and charming day-trip, there's no better place to turn than one of Lehigh Valley's many small towns. From mom-and-pop gift shops to art galleries, historic experiences, and more - these small towns hold a wealth of hidden treasures. Boyertown, located on the southern edge of Lehigh Valley, is no exception. Here are a few suggestions to guide you through a day exploring this picturesque, Victorian-era town.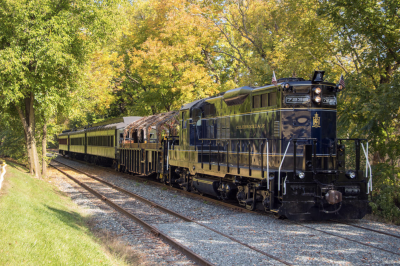 Take a ride on one of Boyertown's biggest attractions, the Colebrookdale Railroad. The railway's original purpose was transporting iron-ore to the various furnaces and forges scattered throughout southeastern Pennsylvania. Today, passengers travel along the Secret Valley from Boyertown to Pottstown (and back) enjoying scenic vistas of the Manatawny and Ironstone Creeks, geologically significant and surprisingly close rock cuts, and abundant wildlife. The trip takes about two hours and the line holds a number of themed excursions throughout the year including Santa's Polar Bear Express, special dinners, wine/beer/liquor tastings, fall foliage, and others. 
A visit to the Boyertown Museum of Historic Vehicles gives a different perspective on the town's history. The museum is housed in an 1872 building that was the former workshop for Boyertown Carriage Works (1872-1914) and Boyertown Body Works (1914-1990). The collection features a wealth of transportation vehicles constructed in Pennsylvania. You'll see early horse-drawn carriages, penny-farthing bicycles, motorcycles, the 1938 Fegley's Reading Diner, a variety of delivery and government trucks built right in Boyertown, and more. 
A busy morning on the rails and/or in the museum has undoubtedly left you with a healthy appetite. The Grill Shop is a local favorite serving classic "fast food" type fare like cheeseburgers, chili dogs, and homemade soups. If you're looking for casual dining with table service, try Durango's Saloon, which boasts a wide selection of draft and bottled craft beer. Healthier vegetarian options can be found at Firefly Cafe, which also features a vegetarian grocery. 
Round out the rest of your day by perusing the quaint local shops. You might want to begin at Building a Better Boyertown, headquarters for the local Main Street program. Here you can learn more about Bear Fever, Boyertown's decorated bear program or find information about an upcoming festival that might warrant a return visit.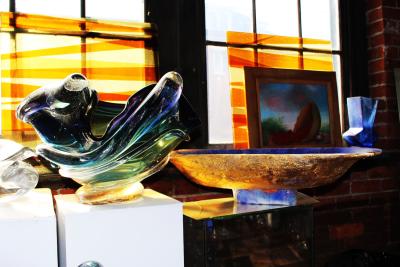 Art lovers should be sure to stop by Taylor Backes Glass Studio, founded by artists Will Dexter and Karla Trinkley whose work is part of permanent collections at The Philadelphia Museum of Art, The American Craft Museum, The Corning Museum, and Smithsonian Institution. The gallery features a vast array of work by Dexter and Trinkley in addition to other artists with whom they collaborate and mentor.
Studio B is another haven for local painters, sculptors, and illustrators; the intimate gallery features various themed and rotating exhibitions. You'll also want to check out Dancing Tree Creations. The shop features works of ceramic, jewelry, metal, wood and more--all hand-crafted by North American artisans known and respected by the shop owners.
Late afternoon leaves time to visit Frecon Farms Market & Bakery, a third generation family-run shop offering fresh locally grown produce, wildflower honey, artisan cheeses, hard ciders, and scratch-made baked goods. You can also satisfy your sweet tooth at The Peppermint Stick, a quaint candy shop offering nostalgic favorites like Necco wafers, Mallo Cups, Mary Janes, and lemon drops as well as modern favorites and Nelson's ice cream. 
No day in Boyertown would be complete without taking in a movie at the restored State Theatre, a 106-year-old small town movie house. The State screens family-friendly new releases on its state-of-the-art digital projection system. It also boasts a stage, which enable the theatre to host a number of live performances throughout the year. 
Most people tend to recognize cities as the best places to experience arts, culture, dining, and history. However, small towns like Boyertown bring a cozier, homespun feel to everything they do. Next time you're in the mood for a fun-filled adventure without city dynamics, try visiting one of the Valley's small towns.