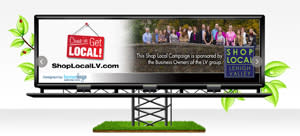 Some small business owners probably day dream about having enough of an advertising budget to purchase billboard space from time-to-time. In fact, I bet a lot of small business owners dream about having an advertising budget.
What one small business can't do on their own, however, many small businesses can do together. ShopLocalLV is a consortium of 20 local Lehigh Valley small businesses ranging from restaurants (Black Forest Deli in Bethlehem) to insurance (Hosfield Insurance in Macungie) to carpet cleaners (Steam Xperts). The group recently put together the $9,000 that was needed to secure advertisements on digital billboards on Route 22 and 378. And the ads just went live.
A mixer was held prior to the billboards going live at The Mint in Bethlehem and many business owners espoused the efforts of every member, noting that they definitely couldn't have done it without each other. In fact, joining each other in very public endeavor, such as a rotating digital billboard, seemed to bring the member businesses closer together and more focused on their main goal: encouraging the community to shop local.
While most communities are reminded of the importance of shopping local, it's easy to get caught up and influenced by the big stores who can easily purchase ads across all media. So, for a group of like-minded business owners to come together, put aside any competition or differences, and work toward a common good is not only refreshing, but hopefully a sign of a new way of doing things.
It's also important to note that this Friday is Black Friday and this Saturday is Small Business Saturday, where locals are encouraged to head out and, you guessed it, shop local.