"Love Actually"… "Love Story" … "Serendipity" … "The Holiday" … There's a good reason why some of the most romantic movies ever made are set against a snowy backdrop.
Winter's chill always turns the heart toward love, making winter in Lehigh Valley one of the most romantic times to visit. 'Tis the season for heart-racing slope adventures, intimate conversations by the fireplace, and locally-crafted wine and ales.
Discover your Lehigh Valley passion:
Ski By Day.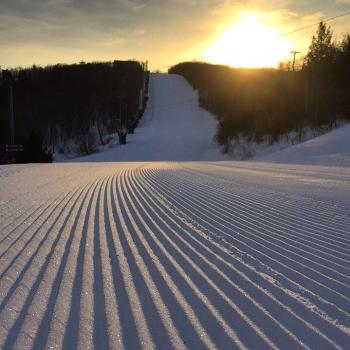 Two Mountains. Lehigh Valley is home to two thrilling mountains that will create that dramatic, romantic backdrop. No matter your age or skill level, these mountains have the perfect range of activities and difficulty for you to impress your date or hold hands as you help each other learn a new sport. Get ready to feel the adrenaline at Bear Creek Mountain Resort and Blue Mountain.
Cozy Up At Night.
Be Merry. Lehigh Valley has two trails to "cheers" to the mountain you conquered - the Lehigh Valley Wine Trail and Lehigh Valley Ale Trail. You decide which tempts you more.
Eat. After some wine or beer tastings, you may need to refuel with dinner. Many palette pleaser choices to select from as Lehigh Valley's food scene is exploding with flavor. From farm-to-table to upscale, gourmet and cozy restaurants and cafés, you won't go hungry. But if pizza has your heart, Stefano's Sicilian Grille near Blue Mountain will do the trick, or Gio Italian Grill near Bear Creek.
Stay. Warm up after a day on the slopes with special savings packages for Stay and Ski enthusiasts. Spend the night at a nearby hotel, a charming B&B, or an inn with a beautiful country view.