Every four years, the world pauses, to watch the beautiful game of soccer, or futbol, together. In England, a country with many football teams, there is only one team: England. The same can be said for Spain, France, Germany, and the United States.
This competition isn't for club, this is for country and that means something, especially to the 32 countries that qualified. But, this isn't just about 32 countries, it's about the world, as this is the world's game,  this is a premier event, so why not watch it at a premier viewing party?
Here are six things to know about the upcoming 2014 FIFA World Cup Soccerfest & Viewing Party this Weekend at ArtsQuest SteelStacks in Bethlehem:
One There is only one FREE officially sanctioned FIFA World Cup Viewing Party and it's happening right here in your back yard, next to the magnificent Blast Furnaces.
Two You have two chances to learn about Bethlehem Steel Football Club, which has an amazing history and is part of the reason the event is being held where it's being held.
Three There will be three FREE Levitt Pavilion Concerts during the first weekend of the event.
June 12, 7:30 p.m. Playing for Change (World)
June 13, 8 p.m. Alo Brasil (Brazilian)
June 14, 8 p.m. The Wholigans (The Who Tribute)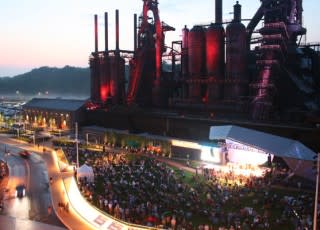 Four Four founding community partners came together to make this a reality; ArtsQuest, Discover Lehigh Valley, Lehigh Valley United and Spark. What was created when they combined there talents is something unique, not just to Lehigh Valley, but to anywhere outside of Europe!
Five When talking about the first weekend of this festival, it's really a five day weekend, starting Thursday the 12th and ending Monday the 16th. Five days of Football Frenzy stirred up in World Cup Fever!
Six During those five days, there are six must see games that stand out, although all games will be important.
6/12, 4 p.m. Brazil vs. Croatia
6/13, 3 p.m. Spain vs. Netherlands
6/14, 6 p.m. England vs Italy
6/15, 6 p.m. Argentina vs. Bosnia & Herzegovina
6/16, 12 p.m. Germany vs. Portugal
6/16, 6 p.m. USA vs. Ghana
For more information, visit www.LVsoccerfest.com. See you there!