The warmer months in Lehigh Valley are blooming with just-for-girls getaways!
The sun is shining, making it the perfect time to get away with your best girlfriends. From spas to shopping to wining and dining, Lehigh Valley, Pa. in spring & summer is the perfect place for quality girl time.
Why just have a girls' night out when you can have the whole weekend?
American Hairlines Body and Soul. American Hairlines has it all— a spa, salon, and shopping. Start with a soothing visit to the whirlpool, sauna or steam room. Then relax with a spa treatment—facials, massages, manis, pedis and more. Then get your hair done by an expert stylist, followed by a make-up application. Your new look will need a new outfit, too, so pop into Popmart, American Hairlines' boutique that brings LA chic to Lehigh Valley.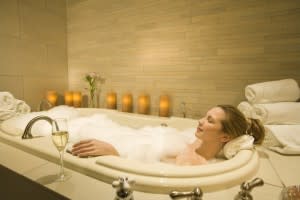 The Spa at Bear Creek. With serene mountain surroundings and revitalizing treatments, The Spa at Bear Creek offers a unique resort experience that focuses on pampered well-being. The result is a relaxed, renewed and rejuvenated new you. The spa offers you a variety of nail, hair, and body treatments. As a guest, you can also enjoy the steam room, fitness center, indoor/outdoor hot tubs, and the indoor/outdoor pools.
Lehigh ValleyWine Trail. Unwind with the girls on the Lehigh Valley Wine Trail, nine family-owned vineyards and wineries that grow and produce some of Pennsylvania's best premium wines. These wineries have brought home the PA's Governor's Cup 10 times, in addition to winning numerous regional, state, national, and international awards. Chambourcin, Lehigh Valley's signature wine grape, is a prize-winning favorite to savor.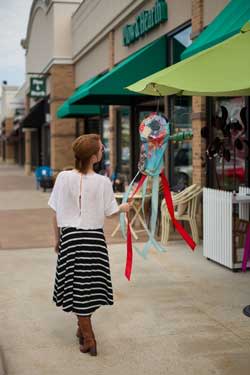 Lehigh Valley Mall. Find all the latest spring fashions at Lehigh Valley Mall, home to three department stores, 150 stores and multiple restaurants. Shopping with the girls is guaranteed to be big-time fun.
The Outlets at the Sands. It's a winning combination! 25 stores, a spa, dining, and more, this is the perfect place to spend a day with the girls.
The Promenade Shops at Saucon Valley. Welcome to Lehigh Valley's premier, outdoor Lifestyle Center, featuring 475,000 square feet of all kinds of fun. The Promenade Shops is a unique blend of your favorite fashion stores, one-of-a-kind boutiques, a state-of-the-art movie theater, and an exceptional mix of restaurants. The Main Street will remind you of the friendly, downtown-style shopping of yesteryear. A beautifully appointed sidewalk "promenade," complete with old-fashioned street lamps, close parking, and cozy seating areas, makes this the perfect place for strolling, shopping, dining, and catching up. A mountain-side landscape, sparkling water features, fire pits, and stunning storefronts all make The Promenade Shops at Saucon Valley one of the Lehigh Valley's most picturesque settings.