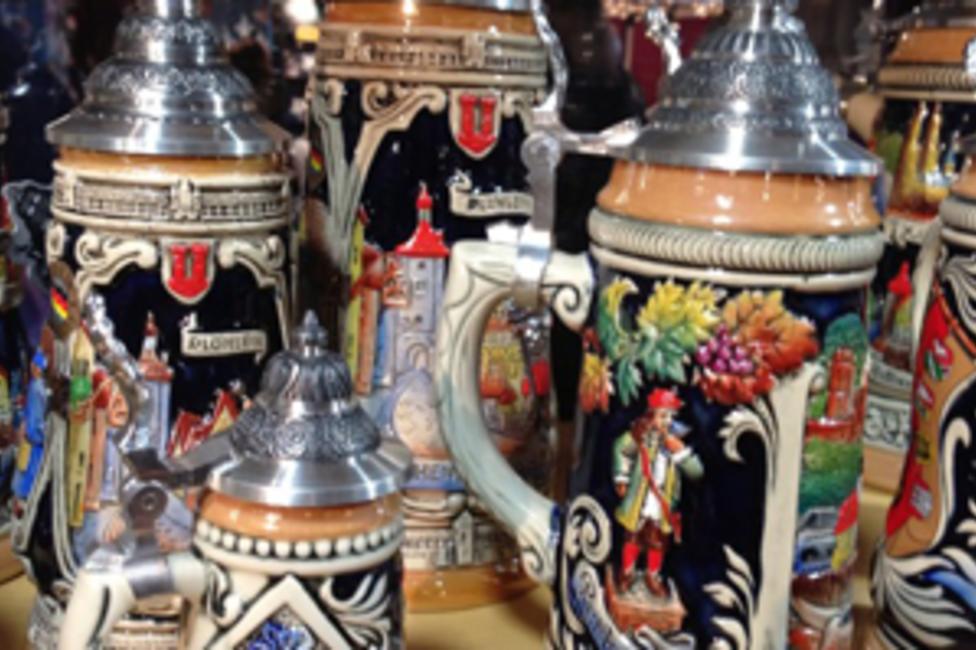 My family doesn't mess around when it comes to Christmas. Every square inch of my parent's house in Mountoursville, Pa  is transformed into Christmas-land. Obviously we go with the basics; some lights on the outside of the house, tree decked out to the nines in the living room, but then we take it the extra mile.
We have not just one, but three trees (one with regular ornaments, one with all snowmen, and one with mice). Christmas plates get swapped out with the normal every day ones. We have a living room full of Santas. German Nutcrackers line the stairs. A dining room overflows with snowmen. Kitchen cabinets are topped with a collection of holiday Coca-Cola bottles.
You get the idea. We go all out, every year.
So what better way to get the family in the Christmas spirit than to give them a tour of the Christmas City? Last weekend, my parents came down for a visit just to see how we do it here in Lehigh Valley.
Our first stop was Christkindlmarkt over at SteelStacks in Bethlehem (you can download a coupon for admission here!). This was also my first time there, and both my family and I were impressed. It was a bit chilly out, so the heated tents made for a great shopping experience. We wandered up and down the aisles seeing what all the different vendors had to offer and sampling everything from English toffee, to salsas and dips, and even wine!
Both my parents and I were able to pick up some great gifts. My brother plays the drums (if you're reading this, sorry I ruined the surprise!) so I picked him up a t-shirt from Georgie LeHoop, the Drum Artist. You may recognize him- he's also a regular at Musikfest! We also picked up some beautiful ornaments from Germany's Käthe Wohlfarht, where we also loved looking at the Nutcrackers.
We then headed on over to Christmas City Village where we wandered up and down the rows of huts looking at the different crafts and collectibles on display. I picked up some cute things to make my apartment a little more festive and some potpourri that smells amazing! From there, we stopped in the Moravian Book Shop on Main Street, as well as one of my favorite stores, The Attic.
After all of our shopping, we had an early dinner at Mama Nina Foccacheria- my parents' first time there! The food there is always fantastic and with their serving sizes, you're pretty much guaranteed to have leftovers for lunch the next day (and who can turn down a complimentary glass of wine?). My mom had the stuffed shells, my dad ordered the veal parmesan, and I opted for the seafood trio special. We all sampled each other's meals and each got the stamp of approval. I suggest getting there early though, as it's always packed! Even in December, there were people who chose to dine outside under the heat lamps to avoid the wait!
Holiday shopping in the Christmas City just may have become a new family tradition for us. What are your Lehigh Valley must-sees for the holidays?