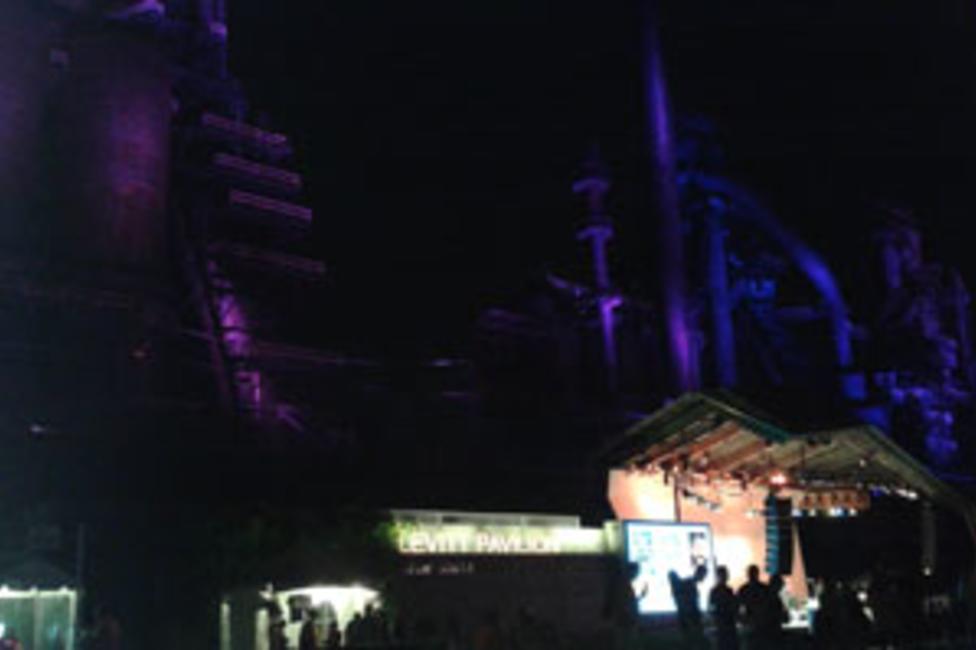 Last night was my second night of Musikfest greatness for 2013. I took my mom with me to hear the sounds of The Family Stone and KC & The Sunshine Band. My mom just happens to be a Musikfest virgin AND she has never been to the revitalized SouthSide of Bethlehem. It surprised me that she hadn't been back since her father worked at Bethlehem Steel for 40 years!
So, I was super excited for her to check out at least some of the campus. We started inside the newest of Lehigh Valley visitor centers, which also happens to be the oldest building of the Bethlehem Steel campus, the Stock House. The visitor center is full of photography, interactive touch screen guides about Lehigh Valley, a seated movie area showcasing the story of Bethlehem Steel, and the best bathrooms on the SouthSide.
We also paid a visit to Aetna Americaplatz at Levitt Pavilion SteelStacks to hear the sounds of Ball in the House. This outdoor venue is at the base of the steel stacks which are most impressive at night when they are lit by multiple colored lights. Next, we headed to the PNC Series at Musikfest Cafe to hear the sounds of The Abrams Brothers. Musikfest Cafe is located inside the ArtsQuest Center at SteelStacks. This venue is home to two Alehouse-style cinemas where you can purchase food and drinks and eat right at your seats as you enjoy a show. Musikfest Cafe is located on the third floor and has an impressive backdrop of the steel stacks.
After listening to some of the sounds it was time to head to our main stage concert. As we were walking it started raining with thunder and lightning. We were totally bummed. I must say that the Musikfest crew did their absolute best to make sure that everyone was safe from the storms. Outdoor concerts were halted for about 30 minutes and people were guided to the nearest indoor structures. For me and my mom that meant the visitor center and we were able to sit down and watch the Bethlehem Steel movie. I also picked up some information about a new event taking place at Musikfest this year, a live charity auction taking place on Sunday, August 11 from 2 - 4 p.m. at Musikfest Cafe. The doors will be opening at 1 p.m. for previewing and there is a $10 entrance fee per person that includes a commemorative auction paddle. 100 percent of your donations are tax deductible! There are a total of 28 fantastic packages being auctioned off including golf, spa, admission to Dorney Park, PPL Union game passes, Stockcar racing experiences and so much more. I know that I will be checking it out. For more information visit Musikfest.org/lineup/Musikfest-charity-auction.
Next stop for my mom is going to have to be Sands Bethlehem. She's not a gambler, but she does like to shop. If you haven't been to the revitalized SouthSide, now is the time! Go get your 'fest on!
[gallery ids="16308,16309,16310"]