For any history buff, the latest addition to the wealth of museums in Lehigh Valley is a must. Located on the grounds of the former Bethlehem Steel plant, the museum occupies what once was used as an electrical repair shop. After many years of planning, this museum opened its doors to the public in early August and has already welcomed thousands of visitors, all sure to leave impressed.
In its early planning stages, the National Museum of Industrial History (NMIH) was recognized as the first Smithsonian affiliate museum. Today, more than 150 Smithsonian affiliate museums exist. Within the NMIH, you'll find more than 20 Smithsonian artifacts - one of the highest number of all the affiliate museums.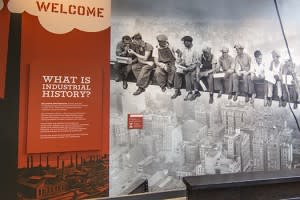 As you enter the museum, you're greeted by a massive I-beam, the heart of so many iconic structures in American history. And that famous photo that adorns the wall? That beam was made right here in Bethlehem, a mainstay in the nation's industrial heritage.
When you make your way into the main gallery, you start at the very early stages of industrial history in America. Celebrating the centennial of the United States, the 1876 Centennial Exhibit celebrated all that the country had accomplished in its first hundred years. The event, recognized as the first World's Fair, was hosted in Philadelphia. While many of the items on display in this section of the NMIH are replicas from what would have been seen at the time, there are some items that are original to the Centennial Exhibit. Each piece features ornate decoration and color, serving as a chance for the country to show off to the world all that their machines could create.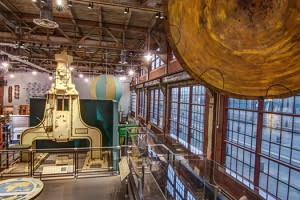 Visitors to the museum also get a chance to see artifacts from the silk and steel industry, including pieces from the Bethlehem Steel plant itself. And the NMIH is designed with visitors of all ages in mind. Kids will love testing the various interactive exhibits, including the chance to measure how much horsepower you can generate.
For anyone with an interest in history, a visit to the National Museum of Industrial History is an absolute must. The NMIH is open to the public Wednesday through Sunday, 10 a.m. to 5 p.m. For additional details, visit their website at nmih.org.