Many people keep a hand written or typed "bucket list". You know, a list of things they want to see or do before they "kick the bucket". For me it is more of an "I should do that" mental note.
If I had a real list I'd be able to cross off one item. I saw B.B. King. The B.B. King. Now I've had lots of opportunities to see him in Lehigh Valley over the years. He's been a regular at the beautiful State Theatre Center for the Arts in Easton and last year played Musikfest in Bethlehem with Peter Frampton. (I'll bet that was an interesting show.)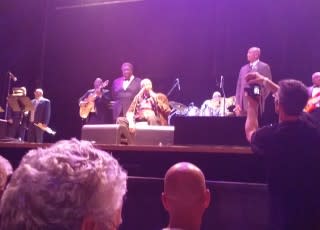 When I saw that he would be appearing at Penn's Peak on a recent Friday night I e-mailed Lynn to see if there were any tickets available. Luckily, they had just released more seating and I scored 3rd row seats! It was so worth the extra couple bucks for the primo location.
Any event at Penn's Peak is enjoyable. We arrived early to grab a drink and take in the view on the patio. As the band members took the stage and we headed to our seats I couldn't help but notice how diverse the crowd was. Young and old alike were there, not only to enjoy the show but almost to pay tribute to the "King of Blues".
After a song or two the King was escorted to his seat on the stage. He introduced each of his eight band members all of which beamed with respect. You can tell many of them have been with him for a very long time.
I am quite sure his current show is not the same as when Don saw him 40 some years ago however at 88 years young, the man can still play! Highlights of the evening included two audience sing-a-longs. I didn't see a single person too shy not to sing "You Are My Sunshine" and "When The Saints Come Marching In".
The show ended with B.B. tossing guitar picks and what looked to be gold chains into the audience before donning his coat and hat and heading off stage destined for yet another gig in his grueling schedule.
A lot of my friends have their own stories of meeting B.B. King over the years, getting his autograph, or even their guitars signed. I'm just happy to have finally experienced his performance live before I kick the bucket!