Some people are easy to shop for. Some people you know exactly what you'll get for them for Christmas before it's even the end of July. Some people, well, some people just make buying presents a pleasure.
Then there are those who you have no idea what to get. Maybe you're not sure what their hobbies are. Or maybe they've already bought everything they could for their hobby. Maybe you're just stuck.
That's when Seasons Olive Oil and Vinegar Taproom in downtown Bethlehem comes into play.
It is THE perfect place to buy something for the person who has everything, even if they literally have everything.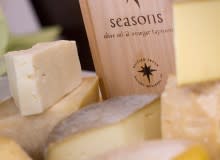 "Why?" you ask? Well, it's pretty simple. Because, no matter how much this person may think they like olive oil, or may not even think about olive oil, when they receive olive oil, especially from Seasons, they can't help but get excited.
I know, I know, you're still not sold on this. You're probably just thinking that Seasons asked me to write an article about how buying olive oil for your stepdad was a good idea. So, I'll go on.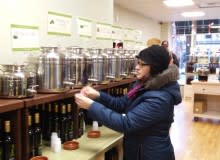 Everyone needs olive oil or vinegar in their home, whether they cook every single night for their family, or cook once a month with their roommates. And, if everyone needs olive oil or vinegar, why not get them olive oil or vinegar with special and different tastes? Why not try a fruity style or a specially aged batch or one that has chili infused?
The point is, a bottle of olive oil or vinegar from Seasons never gets old because there are so many different styles to try (and you can taste test them on site.)
And, since they recently remodeled, the store is that much more fun to browse through.
Seasons now features a cheese bar that has added the finest American and European small producer cheese and charcuterie, and fresh, naturally cured olives. In tradition with carrying the world's highest quality olive oil and balsamic vinegar, Seasons can proudly offers there selections of the highest quality cheese, charcuterie, bread, and olives available.
Trust me on this one. If you've fresh out of ideas, a bottle of Seasons vinegar or olive oil is the perfect present.
And, you know what? It's not even for when you're stuck, to be honest, there are a few family members who know that they will be getting a new bottle or two every year and they couldn't be happier.