The kids have put away their pencils and books for the summer months, so now it's time to find some fun!
Of course, there's Dorney Park & Wildwater Kingdom. Always providing a day of fun, these two parks come at the price of one! And if you're traveling to the area, be sure to check out our savings packages at DorneyDeals.com. Each overnight package includes discounted park admission tickets in the rate.
Make a splash at Dutch Springs Aqua Park. Don one of their life vests and hit the water! You'll find a variety of large, inflatable floats to climb, jump, and slide on. Have a bounce on the trampoline, or try your hand across the obstacle course.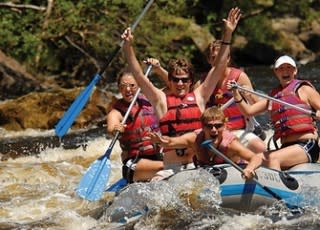 Maybe you want to be in the water, but in a more natural atmosphere. Take a float with Twin Rivers Tubing on the Lehigh River. Or if you're looking for some thrills, hit the rapids with Whitewater Challengers or Pocono Whitewater.
And if the skies are looking cloudy, not to fear! There's still plenty of fun to be had.
Head to Easton for a colorful day at the Crayola Experience. At this multi-level interactive exhibit, kids (and adults too!) can create a crayon with their name on it, Doodle in the Dark, and create shapes at Meltdown. If you're planning a trip to the Crayola Experience, take at look at our Stay & Create package for deals and discounts.
If you're more of the adventurous type, don't miss the National Geographic Earth Explorers Exhibit at the Da Vinci Science Center. Available through Labor Day, this interactive exhibit allows kids to dive beneath the surface of the sea in a submarine, experience life as an Arctic explorer, fly over the Serengeti in a hot air balloon, and much more. This exhibit is included in your regular admission price.
For savings on some of the attractions mentioned here, as well as many others, be sure to visit LehighValleyKidsventure.com. Download a bookmark and show it at participating venues to receive special discounts, now through the end of October.
Or slow it down with a full 18-holes at Putt U Miniature Golf, which will be home to the 2016 US Open Miniature Golf.
And there's plenty of other options at DiscoverLehighValley.com. So get out and enjoy the summer, it doesn't last long and the next school year is always right around the corner. Enjoy the summer, while it's here!