The weather last night was perfect to be out on a Lehigh Valley golf course, even though I don't golf. Rodale Catering & Events was hosting an open house at the picturesque Olde Homestead Golf Club in New Tripoli and I was happy to be invited.
For those of you who may not be familiar with the Rodale name, they are the family behind the Rodale Institute and Experimental Farm. Organic gardening may be all the rage today but J.I. Rodale pioneered the idea back in 1947! He also founded Rodale Inc., the publishing company behind such magazines as Organic Gardening and Prevention.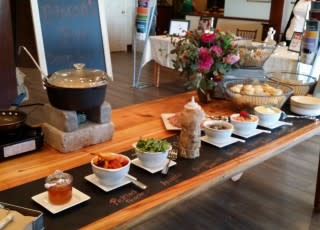 As you can imagine, the food served by their catering company is completely organic and earth-friendly. Even the disposable plates and forks were made from recyclable bamboo. But that just explains the delicious ingredients. What their chefs do with those ingredients is nothing short of amazing. Whoever heard of a biscuit bar? (It was wonderful!)
The evening wasn't just about the food. Other wedding and special event vendors also showed off their services. I enjoyed chatting with Mark from Mark Kintzel Design and my friend Sarah Petryk who owns Allium floral design and event styling. I wish I had half the creativity of these two in staging the perfect table settings.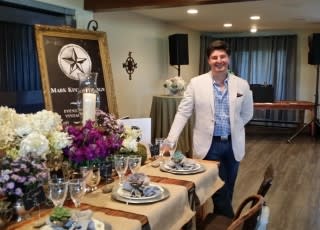 The event started in Olde Homestead's Carriage House overlooking the golf course, pond, summer kitchen and home built in 1910 which is now their Clubhouse. We were then whisked away in a J&J Limousine down to the Potato Barn to visit with other vendors and experience more culinary delights.
I really enjoyed talking with Justin Smith whose family has owned the property since before the Declaration of Independence was signed. A fun fact I learned was that their Potato Barn was one of the places the Liberty Bell was housed on its way to Allentown in 1777.
History aside, the golf course is gorgeous and Justin took the time to explain all the detail that goes into keeping the greens so perfect. I felt guilty just walking on it.
Even though their traditional golf business continues to grow, the family decided to add a "FootGolf" course this year, the sport that blurs the line between golf and soccer. Now that just might get me out on the golf course!
Thanks to all for hosting such a great evening...I can't wait to go back!