It's Good Friday and that can only mean one thing … Easter is right around the corner. As I drove in to work today the local radio personality was talking about Easter baskets. They asked listeners to call and let them what their most hated candy was that they used to get as a child in their basket. People mentioned Sweetarts, Cadbury Eggs, maple flavored anything, certain types of name brand chocolate, among others. One candy that was not mentioned however, was our locally-made Lehigh Valley Peeps.
Why is that? I'll tell you why. People are obsessed with Peeps! I've written several posts over the past couple of years that details the mad hysteria this particular Easter favorite has on people. You can check them out here:
2009: Getting Down with the Peeps 2012: Lehigh Valley's Just Born Peeps Make it to Letterman's Top Ten 2013: Our Annual Peeps Post! Peep Movies, Peep Experiments and Peep Mobiles!
In doing my "research" for 2014, I had a ton of laughs and I'm sure you will too. Here are some of my favorite videos and mentions of that infamous candy, Peeps:
Movie and TV Shows: - A remake of the movie "Lord of the Rings" using Peeps - South Park featured Peeps on one of their episodes
Recipes and Drink Ideas: - Parade: magazine features "Peeps on Parade: Six FunDesserts to Make With Peeps" - Bacon Today shows us how to make Bacon Chocolate Peeps - The almighty knowledge of WikiHow shows us how to make Peeps vodka - Taste of Home shows us how to make a Peeps sunflower cake - The Wine Peeps blog describes wines that go with Peeps: Challenging Wine Pairing: Peeps Marshmallow Confections
[caption id="attachment_19022" align="alignleft" width="320"]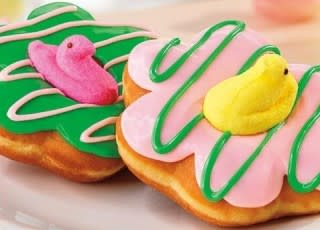 Peeps donuts at Dunkin Donuts[/caption]
Arts & Crafts and more projects: - the Stir gives us "6 Things to Do With Peeps Besides Eating Them" - And PersonalCreations.com gives us 15 more things to do with Peeps - Our very own Peeps Pinterest board has some awesome ideas for using Peeps
New Peeps products for purchase: - The new Yankee Candle Peeps scented candle - Dunkin Donuts debuts the new Peeps donut - On May 1, Just Born, Inc. will be launching a new mini Peep: "Everyday Peeps Break Out of the Easter Basket"
Peeps Research: - Millikin University did a research study on the Peep - Basic science and health of the Peep
The Demise of Peeps: - The Microwave Disaster - We learn of 100 Ways to Kill a Peep
Miscellaneous clips: - Chubby Bunny Peeps challenge - Lifehacker describes "Why a Big Tax Refund Isn't as Awesome as You Think" - The 7th Annual PEEPshow is being held from April 11 - April 21, 2014 at the Carroll County Arts Council in Westminster, MD - That's nerdalicious explores the Stormtrooper Peeps
So, are you with me? There's some crazy fascination with people and their Peeps! Which were your favorites?
Bonus 1: Read this great article on 16 Peeps facts you didn't know by MentalFloss.com.
Bonus 2: Ben and Jerry's birthday "Cone-test" video contest: Vanilla Peep Peep Baby
http://www.youtube.com/watch?v=oAbkSq3utDk