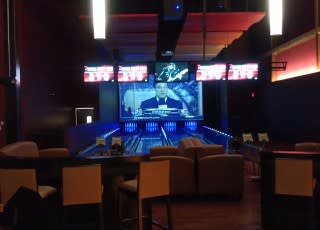 Last week I attended the Grand Opening of Lehigh Valley's newest entertainment center, Revolutions at Saucon Valley.  The building, formerly a movie theatre has been transformed into an upscale recreation center featuring bowling alleys, pool tables, video games, several bars and a restaurant.  Upon walking into this state of the art facility you are immediately drawn to the dozens of TV's spread throughout the entire building.  The layout and décor create an enjoyable atmosphere for visitors of all ages.
After watching the ribbon cutting, the crowds headed in all directions to check out this unique facility.  While many visitors made their way to the two bars, several groups headed to the video games which are located on the second level.  In addition to the newest video games, the second level features basketball games, skee-ball and a four-way air hockey table.
Following some time on the second level, it was then time to head back to the first level for some bowling at the upscale alleys.  These alleys feature comfortable sofas, wooden furniture and several projection screen TV's.  The bowling areas are a great place to enjoy a drink and watch the evening's football game.  The event ended with a stop at the Red Brick Grille for some BBQ Pulled Pork Sliders and Buffalo Wings.  Both of the appetizers were delicious and went well with a bottle of Stella Artois. 
Revolutions at Saucon Valley is sure to be a great addition to Lehigh Valley's growing entertainment scene.