Earlier this week, I had the chance to stop by Lehigh Valley Grand Prix.  While I had been there before, I had never actually had the chance to try my hand at racing.  I consider myself a pretty decent driver, so I thought go-karts would be simple.  A few laps around the track, flying around the corners- no big deal, right?
Well the karts at Grand Prix are not your average go-karts. These are top of the line cars which can hit speeds of up to 45 mph in the span of the quarter-mile track, featuring 11 turns.
Did I mention that I would be racing against Marco Andretti? Right. Now I was a little intimidated. Marco was on hand to promote the upcoming IndyCar Race at Pocono Raceway.
[caption id="attachment_15149" align="alignright" width="220"]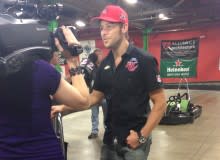 Marco Andretti[/caption]
After a quick instruction video explaining the rules of the road, I was ready to go.  Right pedal is gas. Left pedal is brake. Blue flag means move over, someone is closing in and is about to pass you.  Black flag for warnings if you disobey the rules.
I was fitted for a helmet and a racing suit (note to ladies- no dresses or heels here!). I didn't know that I would actually get the chance to race at the event so I was less than prepared with my attire!
After getting all suited up, I was assigned a car and got ready to go.  And after a quick check to make sure seat belts were secure, it was visors down, engines revving and a green flag to start!
It took me a few tries to get the hang of the turns in the track and how to balance between the gas and brake pedals. I was lapped by Andretti before I even finished my first time around the track! My racing skills might not have been the best, but it was definitely a ton of fun to be flying around the track- even if I was getting passed by Andretti on what felt like every other turn.
The race lasted about 8 minutes, and I was able to complete 10 laps with my best time being 39.114 seconds (did I mention I wasn't the greatest at this?). Just for comparison, Marco completed 15 laps in the same amount of time with his best time at 30.947 seconds.
[caption id="attachment_15150" align="alignright" width="220"]
All Suited Up![/caption]
After the race, Marco took some time with the media to discuss the upcoming IndyCar Race at Pocono Raceway- the first time that an Indy race will be held there since 1989.  In his trial at Pocono Raceway, which he confessed was his first time driving the circuit, he broke the track record.  We all posed for a quick photo and the Andretti took some time to chat with fans as well.
But take me as an example- you don't have to be a professional to have a great time racing your friends at Lehigh Valley Grand Prix! And if you're lucky, you might even run into Andretti there- he frequently stops by with his friends for a few laughs and a good time.
[gallery ids="15146,15150,15142,15149,15147,15144"]