It's no secret that Lehigh Valley loves its bacon. Just look at the success of the Lehigh Valley IronPigs and their 'smell the change' marketing campaign!
Each November, Easton's Centre Square is transformed into a mecca of bacon-lovers. In 2015, PA BaconFest makes its return on Saturday, November 7 and Sunday, November 8.
Sponsored by Easton Farmers Market, this annual event has grown into one of the region's most popular events. Over the course of the two days, visitors can enjoy treats from over 100 vendors and more than 20 musical acts on eight stages. The festival has been ranked in the Top 300 Festivals in the World by 300Fest.com, and was voted locally as the Best Culinary Event in Lehigh Valley Style's Best of the Lehigh Valley 2015 contest.
Join tens of thousands of attendees for a weekend of fun- and be sure to pack your appetite! In addition to browsing the offerings of participating vendors, bacon-lovers can take part in cooking demonstrations, tastings, and more. Highlights include a bacon candy, bacon ice cream, and bacon cocktail tastings. A number of instructional demonstrations will also take place. View the full schedule of events, both professional and amateur, here.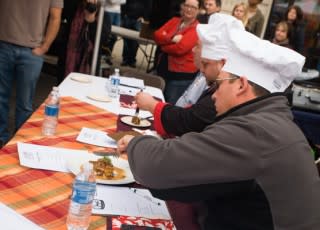 If you're looking to test the strength of your stomach, sign up for Sunday's bacon eating competition. Competitors will race to see who can devour the most strips of bacon in five minutes. It's free to enter the contest, but you must register in advance here.
In 2015, you can add even more fun to your BaconFest experience by signing up for two special events.
On Saturday evening, be sure you have your tickets for the State of Bacon, a craft beer, wine, and bacon tasting event complete with live music. This ticketed event will be held at the State Theatre Center for the Arts from 3:30 - 7:30 p.m.
And on Sunday morning, work off some of those calories with the Racin' Bacon 5k. Participants receive a free Sly Fox beer to enjoy during Bacon Fest, free bacon sample and a long-sleeved t-shirt.
But of course, this is just the start of the fun! Head out to Easton's Centre Square to get in on all the tasty fun, and be sure to leave room for some bacon-filled desserts!
If you go: Saturday, November 7 & Sunday, November 8; 9 a.m. - 4 p.m. $2 suggested donation at the entrance. Proceeds benefit the GEDP and the Easton Farmers Market, Easton Public Market, Easton Ambassadors and the Easton Main Street Initiative. Parking information can be found here.