In the past decade I've seen several plays and musicals at the Pennsylvania Shakespeare Festival at DeSales University. So I'm familiar with the high caliber of performances by professional actors that these shows exhibit.
But I'd never witnessed a play where all of the actors had next to no rehearsal time together in preparation for the show. That approach has apparently been used in a handful of PSF productions over the recent years, and is a nod to how actors in Shakespeare's time would have performed – on short notice and with very little prep time.
The actors in Pericles each learned their lines separately and then rehearsed together for just four days before beginning performances on Wednesday night. By comparison a cast would normally rehearse for six days a week over several weeks for a show of this level.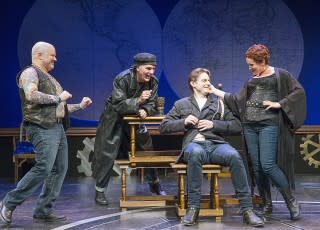 Their costumes were made up of clothing they owned or pilfered from other PSF productions. And the set was the one created for Around the World in 80 Days, which had just completed its run. There was also no director for the production leaving the actors to direct themselves and come up with their own stage blocking
PSF Artistic Director Patrick Mulcahy explained that this "extreme" Shakespeare approach would create more energy for both the cast and the audience… and he was right. Since the performance I saw was a preview leading up to opening night, some actors referenced their lines on sheets they held, while others called to an off-stage monitor for their lines. There were a few anxious moments where no one knew whose turn it was to speak and an awkward silence hung in the air, but was quickly filled by someone.
While a romance at heart, the show was quite dramatic at several times and still had many laugh-out-loud comic moments, not just due to The Bard's clever writings but also due to the delivery of those lines by the actors. Since the story has a lot of twists and turns I highly recommend arriving at the theatre early enough to read the recap in the program. Doing so makes it much easier to follow!
Guest post by Tracey Werner