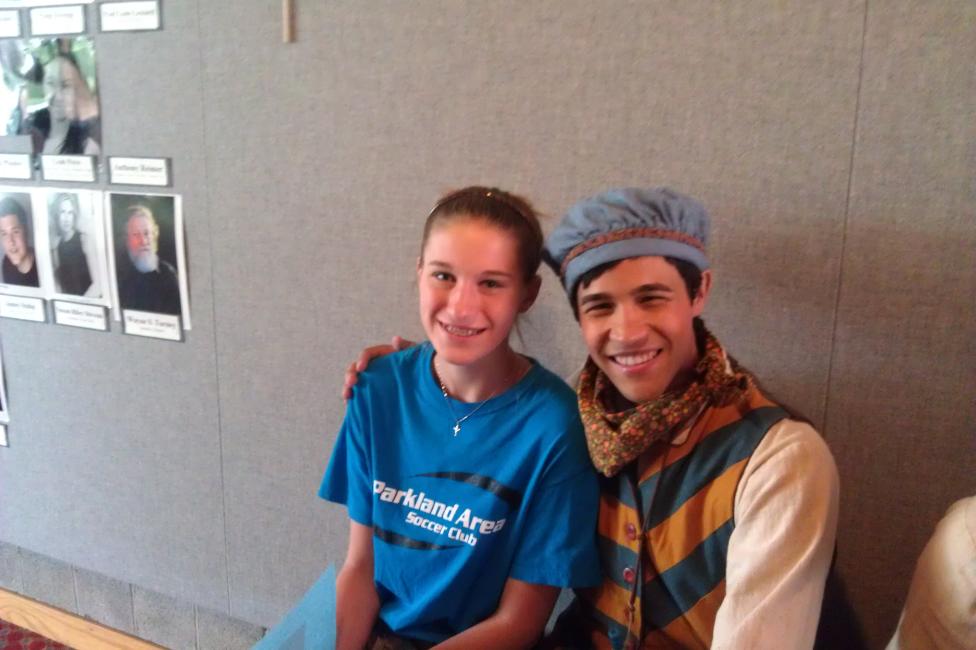 Hi ho, hi ho, it's off to a faraway land we go as the Pennsylvania Shakespeare Festival transformed the Shubert Theatre stage into the timeless Brothers Grimm classic, with a modern twist, of Snow White and the Seven Dwarfs. The intimate theatre was the perfect setting for parents, grandparents and kids alike. The kids were allowed to sit directly on the sides of the stage, on carpeted rugs, which made for some fun as the actors conversed with them up close and personal.
The timeline of the story is that of my childhood days, but its adaptation was a crowd pleaser for sure. I'm talking about the seven dwarfs; Boffo the Boss (Doc), Roscoe the Grouch (Grumpy), Good Time Charlie (Happy), Lazy Leroy (Sleepy), Wheezy Wilbur (Sneezy), Milquetoast (Bashful) and Opie (Dopey). While the Queen, Snow White, Prince Robert, The Magic Mirror and the Huntsman had spectacular performances, I felt the dwarfs stole the show. My favorite had to be Milquetoast, played by Erick Huertas, a junior musical theater major at DeSales University. Milquetoast brought a new side to the show by playing a dwarf that spoke Spanish. Of course, most of the time I had no idea what he was saying, but his bashful ways made it obvious about his love for Princess Snow White. It was the perfect mix-up to the traditional flair of the story and it even made my guests, 14-year old Caitlin and 11-year old Lauren, laugh with amazement.
I also thoroughly enjoyed the dancing of the dwarfs. Each and every one of them were able to bust a move in the funniest of ways. And I would be foolish if I didn't say "oh mush," as Roscoe the Grouch did so many times throughout the performance. His grumpy ways were easily torn down by the beauty of the Princess.
The costume designs stood true to the classic tale. I was a little nervous as the mask was placed on the Queen to portray the old lady with the poisoned apple, but the kids really didn't flinch, much to my delight. The perfect ending to the show was the picture and autograph time which pleased all, especially the little ones that came dressed in costume to support their favorite characters.
Snow White and the Seven Dwarfs runs through August 4 on the campus of DeSales University in Lehigh Valley. Show times are mainly at 10 a.m. and run for one hour, which was the perfect length for the kid's attention spans. For tickets and to find out more about this and the other classics that will be performed, visit www.pashakespeare.org.