When it comes to entertainment, I'm more of a sci-fi or action-adventure kind of girl. When it comes to enjoying life, if you have a new thing for me to try, chances are I won't turn you down. Last night, at the Pennsylvania Shakespeare Festival hosted by DeSales University, I had the chance to see a preview performance of Oklahoma!, the first musical written by the dynamic duo, Rodgers and Hammerstein.
I am definitely not a theater buff, validated by the fact that I have never seen Oklahoma! before, while others who are more familiar with the world of live performance consider it a classic.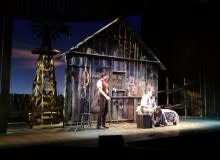 As I entered the lush red theater, I couldn't help but think "I wonder how interesting a musical about Oklahoma will actually be?" But when Curly ( played by Doug Carpenter) waltzed onto the stage singing "What A Beautiful Morning" with all the casual bravado of a cowboy and the smooth voice to match, I was roped into the small town life of Claremore.
Curly's main squeeze, Laurey (Christine Negherbon), who has all the charm, spunk, and beauty of a southern bell girl-next-door, was equally captivating. Their chemistry on stage didn't feel forced, which is important because of the cat and mouse nature of their love story.
[caption id="attachment_15534" align="alignright" width="220"]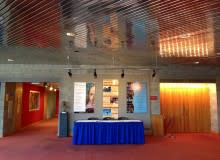 A shot before walking into the theater[/caption]
My favorite part of the evening however, was the amusing love triangle Ado Annie (Julia Pfender) created between herself, Will Parker (Sean Mcgee), and Ali Hakim (Fran Prisco) because she just "cain't say no." I loved Ado Annie as a character; she was absolutely hilarious. From her accent to her mannerisms and personality, Julia Pfender perfectly portrayed this 1900's party girl. (I like to think of Ado Annie as the original blonde who had more fun).
And I can't end this blog post without mentioning the tremendous performance Brent Bateman gave as antagonist Jud Fry, the creeper from the smoke house that was way too obsessed with Laurey. The song "Lonely Room," a chilling ballad, expressed just how disturbed Jud really was. I know not everyone appreciates the bad guy, but my test for being a 'good' villain is if the actor can create a character I actually start to hate and Brent Bateman was great at making me hate him.
All in all, I really enjoyed Oklahoma! I recommend seeing it even if you're not a veteran theater goer; this musical has something for everyone – cabaret dancing, bad guys getting punched, some romance for the ladies, and not to mention a girl fight.
[gallery ids="15529,15530,15531,15532,15533,15534"]