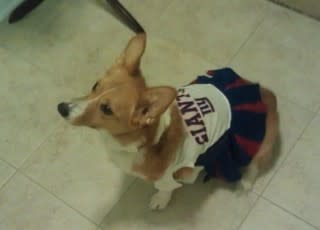 This weekend is shaping up to be a very busy weekend in Lehigh Valley.  The Runner's World Half Marathon & Running Festival is taking place in Bethlehem and Ottertoberfest will be at the Lehigh Valley Zoo.  Both of these events are sure to be unique and will draw thousands of visitors.  With that being said there is another event I look forward to every year, Doggie Day in Bethlehem.
From a pugs dressed as pirates to collies dressed as clowns, Doggie Day in Bethlehem has become a mainstay going into its fourth year. On Doggie Day, Main Street in Bethlehem becomes the nexus of the cute universe as numerous pets and their owners stay in the downtown area throughout the afternoon, resulting in some interesting encounters with pets you wouldn't normally find in overalls, or tutus.
Doggie Day Parade registration begins at 11 a.m. in the Sun Inn Courtyard, behind the Historic Sun Inn. The parade will  begin promptly at 12:30 p.m. There will be five judges to judge the estimated 200 dogs registered for the parade. The suggested registration fee is $10 and proceeds will be shared with Animals in Distress and the Center for Animal Health and Welfare. All registrants will receive a special goodie bag and raffle ticket to win TONS of prizes!
The four parade categories are: Spirit of Bethlehem, Scariest costume, Most creative costume, Dog / Owner costume look-alike, and an Open Category
Doggie Day will also feature a marketplace of nearly 50 dog-related businesses that will have information, giveaways and more throughout the afternoon! There will be a bar located on Main St featured Mad Dog brews!
Since Doggie Day has become a tradition for Snickers and me, I wanted to share my blog post following the 2011 Doggie Day.
Are you planning to bring your four-legged friend to the Mutt Strutt Parade?
http://www.youtube.com/watch?v=BcX_AbnS5h8