A few years ago, I took a vacation to Kauai, Hawaii. During my trip, I noticed a ton of people on stand up paddle boards in water, and even doing yoga on the paddle boards. I thought to myself, "What a cool sport, I wish Lehigh Valley offered paddle board yoga."
Well, guess what ladies and gentlemen, Lehigh Valley does have Paddle Board Yoga Classes and they are offered at several locations throughout the region. I was pretty excited to get my feet wet and take my practice to the water.
[caption id="attachment_20410" align="alignright" width="308"]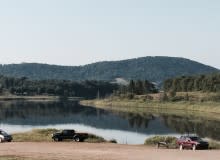 Leaser Lake in Kempton, PA[/caption]
For those of you who are unfamiliar with Stand Up Paddle Board Yoga (also known as SUP), it's essentially yoga on a stand up paddle board in the water.  Combining the unstable platform of a stand-up paddle board in water with well-known yoga poses, adds an additional level of difficulty to your traditional yoga workout. Plus, practicing yoga in the great outdoors makes the experience so much more exciting and fun.
I decided to try SUP at Leaser Lake, in Kempton.  Leaser Lake offers a variety of morning, evening, and weekend SUP classes. My girlfriend and I picked the most gorgeous Sunday morning to try out the class. We found that the classes are kept small and last about hour and half.
[caption id="attachment_20412" align="alignright" width="320"]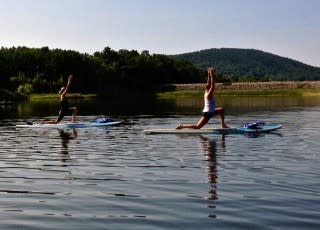 Give Stand Up Paddle Board Yoga a Try[/caption]
The instructor, Britt Tagg  customizes her class to accommodate everyone's yoga level. There's no need to bring a mat or any equipment as everything is provided there and is included in your class fee ($40).
Overall, I had a wonderful challenging, yet fun yoga experience.  Next, I'm looking forward to trying the Full Moon Yin Yoga. There's nothing like hitting downward dog surrounded by the beauty of nature, morning, noon, or night.  And don't worry about falling off the paddleboard and into the water…It happens to the best of us!