Get ready! Get set! Go! Off on an outdoor adventure, over and under Lehigh Valley. There's a broad expanse of landscape in the valley, with all types of terrain. Easy walking paths, brisk hikes, even some mountain climbing. The Delaware River is fast or slow, depending on where you start from. And, the limestone under the valley is prone to caves, laden with unique ice patterns.
We've organized all the right resources into an outdoor experience to provide you with that "kick" you're missing the rest of the week. Get you out into the fresh air, on the water, under a canopy of trees, moving through covered bridges, up and down mountain trails and more. Just after you arrive, you'll see it all, on a hot-air balloon floating over the valley. On day two, hit the water with Bucks County River Country for a morning raft trip, followed by exploring Lost River Caverns in the afternoon.
On day three, you'll be off to climb Hawk Mountain and savor views of the vast valley below, before going underground at Crystal Cave, for a completely different underground experience. Up and at 'em again on day four, to walk at the Trexler Nature Preserve on the challenging Trexler Border Trail and a stop at Cabela's for any new gear. Cap your adventure with a hike on the Appalachian Trail overlooking the Delaware River at the Delaware Water Gap. It's about two and a half miles up to be rewarded with a magnificent view!
Day One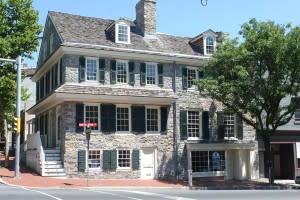 As soon as you arrive in Easton, you can ease into your outdoor adventure on the Walking Tour of Easton which takes you past the 1754 Bachmann Tavern, the oldest building in the city, visited by both George Washington and Ben Franklin. Other highlights of the tour include St. John's Church constructed in 1832 and the Jacob Nicholas House, one of the few other remaining Revolutionary War structures here.
Continue your outdoor history lesson at the National Canal Museum in Hugh Moore Park on the Delaware and Lehigh Canal. Starting just above Jim Thorpe, over 50 locks were installed in the hand-dug channel to compensate for the changes in elevation from top to bottom as coal mined in the northeastern Pennsylvania mountains made its way to Easton, where the Lehigh Canal joined the Delaware Canal. Be sure to take the Josiah White II Canal Boat to get a feel of what it was like to ply the canal in its heyday.
Near dusk, you'll be joining Sights Unseen for a sunset hot air balloon ride over Lehigh Valley. Savor the broad expanse of landscape that you will be enjoying the rest of your trip. We recommend dinner at Porters' Pub before retiring to your accommodations this evening.
Accommodations: Allentown Hampton Inn
Day Two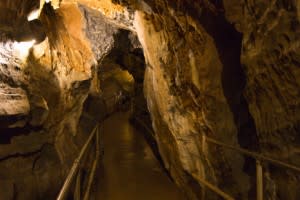 Enjoy the incredibly scenic drive from Easton to Point Pleasant along the Delaware River this morning as you head for Bucks County River Country for a four hour river raft trip. Experience the company's motto "we love to see you wet" as you play down the scenic, clean Delaware River. Catch a bite of lunch at the Red Mushroom Café at the end of your trip.
From there, it's a short drive back to Northampton County and the Lost River Caverns—a very young cavern which began forming within the last 250,000 years. Rain water seeped down through cracks and crevices in the rock slowly dissolving the limestone to form unique chambers and passageways. Continual seepage from rainfall and melting snow removes still more minerals from the rock above the caverns, and deposits them on the cave floor, walls and ceiling creating crystalline rock formations with fascinating shapes— processes that are still occurring at this time. A small museum on the property holds rare fossils, unique minerals, gems stones, interesting antiquities, curiosities and paleoanthropological items that have been passed down through three generations of the family ownership.
We recommend dinner at Sagra Bistro this evening before retiring to Easton and your accommodations.
Accommodations: Allentown Hampton Inn
Day Three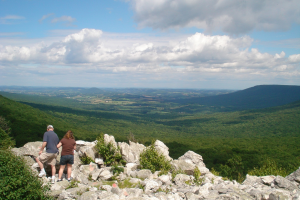 You'll be over and under today in Berks County, first at Crystal Cave and later at the Hawk Mountain Sanctuary. The discovery of Crystal Cave was pure happenstance when resident farmers were blasting for limestone, a sought after commodity in 1871. Their discovery became the oldest operating cave in Pennsylvania. In true entrepreneurial spirit, the first cave lessee created a four-mile horse drawn carriage ride from the Kutztown railroad station to the cave. That attraction was soon joined by the Kohler Hotel to create a famous location visited by thousands each year.
After exploring the cave, we recommend a stop by Dietrich's Meat Market to pick up sandwiches on the go, so you have plenty of time to hike on Hawk Mountain. Here, 2,600 acres is home to scenic overlooks, eight miles of trails, a Visitor Center, a native plant garden and the Acopian Center for Conservational Learning. Since there are no hiking guides available, we will equip you with photographic guides to the trails. The protected sanctuary, surrounded by more than 13,000 acres of private and public land is a focal point for raptor migration, which you can view up close and personal.
Not to worry about the time you spend on the mountain, you can stop at Cabela's, the region's largest outdoor outfitter any time before 9 p.m. On the way back, to your accommodations, we recommend dinner at the Indian Fort Inn in Hamburg, just a bit down the road from the sporting goods complex.
Accommodations: Allentown Hampton Inn
Day Four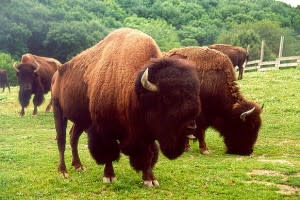 More than a hundred years ago General Harry Trexler purchased numerous small farms creating a game preserve to help protect American bison and elk from extinction. In the 1930s, those farms were bequeathed to Lehigh County and ultimately opened as the Trexler Nature Preserve in 2004. Each of the preserve's three ranges: North, South and Central, offer unique landscapes, and all offer astounding views.
We recommend the Trexler Border Trail, the most challenging traversing 8.5 miles around the periphery of the Preserve. Grazing buffalo, elk and deer can often be seen off in the distance. We suggest you be prepared with your own lunch for the Trail. There is a network of 12 miles of other trails at Trexler, if something more moderate is in the cards.
We recommend dinner in Easton at 3rd & Ferry Fish Market before absolutely falling into bed.
Accommodations: Allentown Hampton Inn
Day Five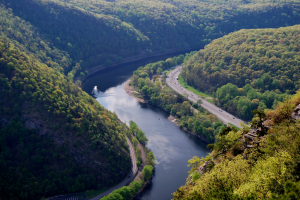 As you leave the area today, the Appalachian Trail at Delaware Water Gap awaits. After climbing a gently rising trail nestled in dense woods, the grade increases. Soon, you'll be hopping up rocks as you begin to see the daylight near the top. And then, ahhhhh, there's the Delaware River, far below your feet. You can take an old fire road down if you choose.
If you have any energy remaining, visit the Bear Mountain Butterfly Sanctuary which delivers a joyous educational experience about the importance and wonderment of butterflies.
From there, we wish you a safe and pleasant journey home.
Nature at its best as you fly above Lehigh Valley and get underground in caves.
Day One
Historic Walking Tour of Easton
National Canal Museum at Hugh Moore Park*
Josiah White II Canal Boat Tour*
Sights Unseen Hot Air Balloon ride*
Accommodations at Allentown Hampton Inn*
Day Two
Four Hour Bucks County River Country Raft Trip*
Lost River Caverns Tour*
Accommodations at Allentown Hampton Inn*
Day Three
Crystal Cave Tour*
Hawk Mountain Sanctuary
Acopian Center for Conservational Learning
Cabela's
Accommodations at Allentown Hampton Inn*
Day Four
Trexler Nature Preserve Hike
Accommodations at Allentown Hampton Inn*
Day Five
Appalachian Trail at Delaware Water Gap National Recreation Area
Prices starting at:  $699 per person, double occupancy * Included in package cost
Optional Inclusion / Add-Ons:
Bear Mountain Butterfly Sanctuary
Packages available March through October, based on availability and seasonal rate fluctuations. Single, triple, quad and hotel only pricing available. Vouchers and complete directions provided for each trip. Air and car hire (trip cannot be completed without a car) booked by others. Package can be customized to suit client's needs.
To Book Call: 877-485-8747 or E-mail: quotes@americandrivingvacations.com