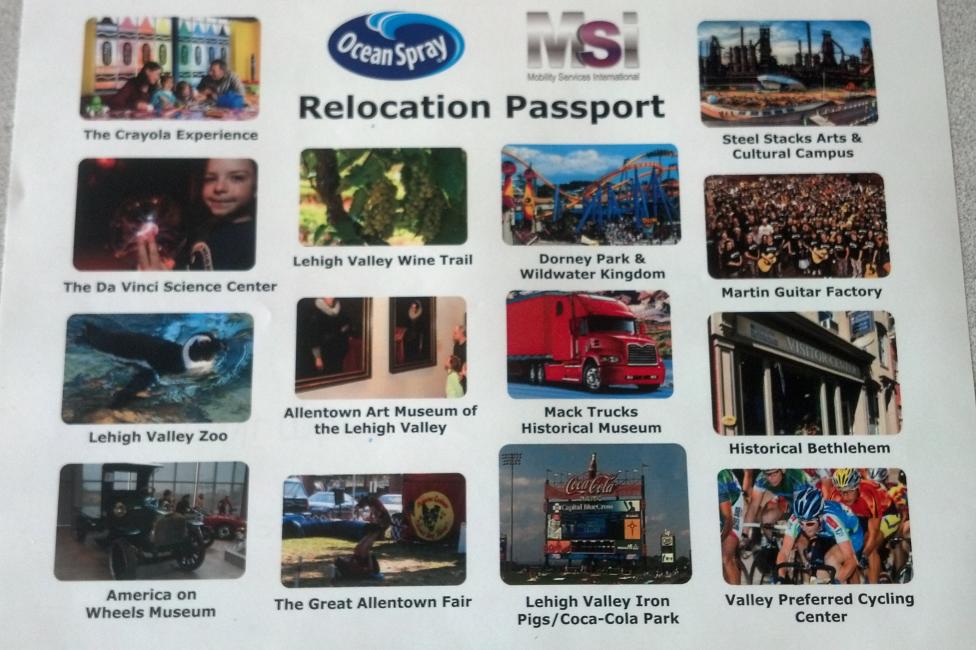 Last week I had the opportunity to do one of the most enjoyable parts of my job, telling people who will be moving here all the fun things there are to do in Lehigh Valley. I was asked to participate in the Ocean Spray Relocation Fair since their aging distribution plant in Bordentown, NJ will be relocating to a brand new facility in Macungie, PA.
The fair consisted of four presentations over two days so all shift employees and their significant others could attend. There were also booths set up where everyone could meet one-on-one with all the vendors invited to make the move as smooth as possible. To make it even more fun, MSI, the relocation specialists hired to assist the employees every step of the way, printed up "Relocation Passports" with each vendor representing a cool Lehigh Valley attraction.
I was asked to speak on recreation, entertainment, and shopping in the valley. Unfortunately I was given a time limit. These are topics I could talk about forever! Since I was only able to mention a small sampling I highlighted skiing at Bear Creek Mountain Resort and Blue Mountain, our wide variety of golf courses, our park systems for hiking and biking, and of course our Covered Bridge self-guided tour and Lehigh Valley Wine Trail...which are great ways to explore their new surroundings.
I pointed out that with Dorney Park & Wildwater Kingdom being in their new backyard, they might want to take advantage of their season passes. More attractions for families: the Crayola Experience, DaVinci Science Center, the Lehigh Valley Zoo.
Everyone loves going to Lehigh Valley Iron Pigs games at Coca~Cola Park and the Valley Preferred Cycling Center is a local treasure. We are also anxiously awaiting the Phantoms hockey team's move to the valley when their new state of the art arena is completed in Allentown.
Our festivals rival any in the country with Musikfest, Celtic Classic, Pennsylvania Shakespeare Festival, Das Awkscht Fescht, Kutztown Folk Festival and a zillion other smaller events like Chile Pepper and Garlic Festivals.
The old Bethlehem Steel site's transformation into the Sands Casino Resort, Outlets and Event Center as well as SteelStacks performing arts center provides year-round entertainment in the shadows of the old blast furnaces which built our country.
Shopping couldn't be more convenient with our various malls, outlets and quaint downtown boutiques and shops. There is no excuse for not eating local with our numerous Farmers Markets where you can actually meet the people who grow your food.
I met a bunch of really nice people at this relocation fair and hope to hear from them as they move to the valley. I also have to give a lot of credit to the management at Ocean Spray. It was very obvious they care deeply about their team and want what is best for all their employees and families.
I mentioned a bunch of things all transplants to the valley should experience…what would you add to my list?