Last Saturday my wife and I had the opportunity to take our five-year old son, Noah, to the Da Vinci Science Center in Allentown.  The center bills itself as a place in which experiences engage minds of all ages with science and mathematics. Promoting curiosity, creativity, and imagination, I think they hit the nail on the head.  From the minute we entered the building, we were greeted with displays that encourage children and adults alike to get involved.
The first room we entered explained the concept of die casts and how these forms are used over and over again to create everyday items such as cardboard boxes, safety helmets, plastic spoons, hangers and more.  There is even a station that allows your child to create a cardboard box.  The box wasn't so special but the smile on my son's face was invaluable.  Heading across the hall, another area offers information on weather (sponsored by WFMZ) in which their Chief Meteorologist, Ed Hanna, explains Tornadoes, Snow Storms, Thunder Storms and other fascinating weather happenings.  Personally I think this is the best part of the center, as the exhibit gives you the opportunity to see yourself on TV in the WFMZ weather center, and who doesn't like to see themselves on TV?
Making our way to the second floor, The Science Center continues to offer engaging displays.  There is a full size Mack Truck engine which shows how the gears of this monster engine work.  One exhibit in particular that caught my attention was that of a bar, pivot and fulcrum and how they work collectively.  It was special to see the expression on my son's face when he realized he could lift a 120 pound weight by pulling the rope furthest from the fulcrum, but the rope closest hoisted him well into the air.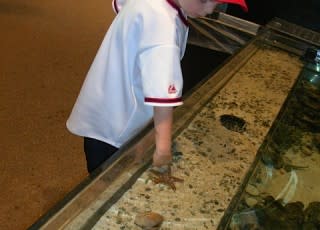 There is plenty to see and discover at the Da Vinci Science Center.  We spent four entertaining and informative hours here, and to me the most educational moment was seeing Noah's mind at work. It was truly priceless. I'd recommend the center to any parent, and if you act fast you still might be able to get their Groupon.  What are your children's favorite places in Lehigh Valley? Do tell.