With Thanksgiving on the horizon, Christmas will be here before you can finish your pumpkin latte. I figured why not take the time to share some of the great holiday happenings Lehigh Valley has to offer?
1. Let's start in Bethlehem since it's affectionately known as "Christmas City." Since 1993 ArtsQuest has held Christkindlmarkt Bethlehem®, recognized by Travel and Leisure Magazine as one of the top holiday markets in the world there is no slowing down in sight for this yearly festival.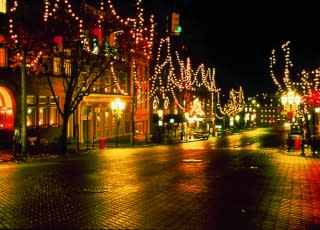 2. Moving from the Southside to the Northside, Christmas City Village on Main Street features thirty five wooden huts dressed for the holidays and filled with Christmas gift ideas, food and drink.
As you wander down Main St. you will find beautiful holiday decorated windows and shops with that one-of-a-kind gift just waiting to go home with you. Be certain to keep an eye out for the festive horse and carriage rides as well.
3. Stop by the visitor center on Main St. as well to take part in a Historic Candlelight Walking Tour or the Bethlehem by Night Tour both offered by Historic Bethlehem Museums and Sites.
The Bethlehem by Night Tour allows visitors to experience the Christmas City on a trip back in time with certified guides in period dress. Deemed "the best way to see Bethlehem" this bus tour includes a visit to the famous star atop South Mountain, a look at early and current local holiday traditions, and access to historic highlights in north and south Bethlehem.
4. The Historic Candlelight Walking Tour will allow you to walk through beautiful downtown Historic Bethlehem with a certified guide. Discover the story of Bethlehem's unique beginning in 1741, the tales of a candle-in-every-window, and the renowned Bethlehem Star. Historic highlights include Bethlehem's exquisite Victorian and colonial architecture, including two National Historic Landmarks, the 1741 Gemeinhaus and the Bethlehem Waterworks.
5. If you have never been to Koziar's Christmas Village it is sure to impress. Dubbed one of the top 10 travel attractions in Pennsylvania, the village features more than half a million lights adorning buildings, gift barns, landscapes, and more. It truly is like "Walking in a Winter Wonderland."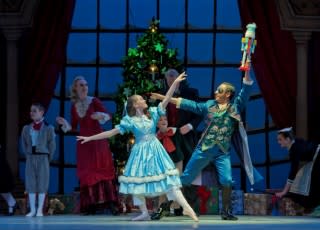 6. Perhaps you are looking to take in a holiday show? Lehigh Valley has you covered. Touchstone Theatre presents Christmas City Follies, the Pennsylvania Youth Ballet will entertain you with The Nutcracker at Lehigh University's Zoellner Arts Center, and the State Theatre Center for the Arts and the Civic Theatre of Allentown both present their version of A Christmas Carol.
7. Are you fond of trains? I know as a child I was and my son and father-in-law still are. For you train enthusiasts be sure to check out Merchants Square Model Train Exhibit. Called "The world's most amazing model train extravaganza" by The Morning Call, you would be remiss if you don't see it for yourself. If you still haven't gotten your fill of trains after seeing this be certain to stop by America On Wheels for their exhibit as well.
8. Looking for an annual Lehigh Valley tradition? Make sure you come out to Centre Square in Easton for the city's traditional lighting of the Peace Candle and the coinciding holiday activities and happenings. First erected in 1951, the structure is dedicated to the Easton area men and women who have served or are serving in the United States armed forces. Considered the largest non-wax Christmas candle in the country it is something to see.
9. Last, but definitely not least is Allentown's Lights in the Parkway. This huge drive-through light display transforms more than a mile of the Lehigh Parkway into a winter wonderland. Visitors will experience tunnels, animated holiday scenes, and much more.
So there are a few of the holiday-themed activities going on in Lehigh Valley. What's your favorite? Happy holidays to everyone enjoy the season.