It's not often that we have an occasion to write about a bank, but last night I, along with 500 other Lehigh Valley business people, celebrated the grand opening of National Penn Bank's new Allentown Headquarters.
What makes this more special than your run of the mill ribbon-cutting is the fact that they now occupy the top five floors of the brand new 11 story 2 City Center building at the corner of 7th and Hamilton Streets in downtown Allentown, just across the street from PPL Center, the new hockey arena built for the Lehigh Valley Phantoms, the Philadelphia Flyer's farm team and the new Renaissance Hotel at City Center.
Let's just say there will be a lot more of these high profile ribbon cuttings in the very near future.
Hamilton Street was blocked because the event was originally scheduled to be outside but rainy weather prompted it to be moved indoors in the still unfinished space. The Allentown Band set the festive mood and National Penn President and CEO, Scott Fainor, could not hold back his enthusiasm when thanking the developers, City Center Lehigh Valley, the contractors, the city leaders and government officials.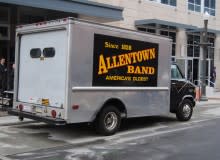 The fact that 275 more people will be working in downtown Allentown is just the tip of the iceberg. There are so many plans for new development, so many projects underway, and so many construction cranes dotting the skyline that the third largest city in the state is bursting with positive energy.
Attendees had the opportunity to sign the frame around a painting which will hang in their executive offices and we were each given a commemorative candy bar. I took a quick tour of their office and was impressed at the cool comfortable feel of the space. If you visit be sure to check out the panels marking the elevators, rest rooms, etc. They have a backdrop of historical and construction images of the site. Nice touch!
The celebration continued in the first floor space which will be a restaurant. Hors d' oeuvres were served catered by Karen Hunter, and just about everyone hung around for great conversation. You couldn't walk through the room without feeling the excitement this event generated.
Welcome to downtown Allentown, National Penn. I look forward to seeing you again at more ribbon cutting celebrations in the future!
[gallery ids="19043,19044,19045,19046,19047,19048,19049,19050,19051,19052,19053,19054,19055,19056,19057"]