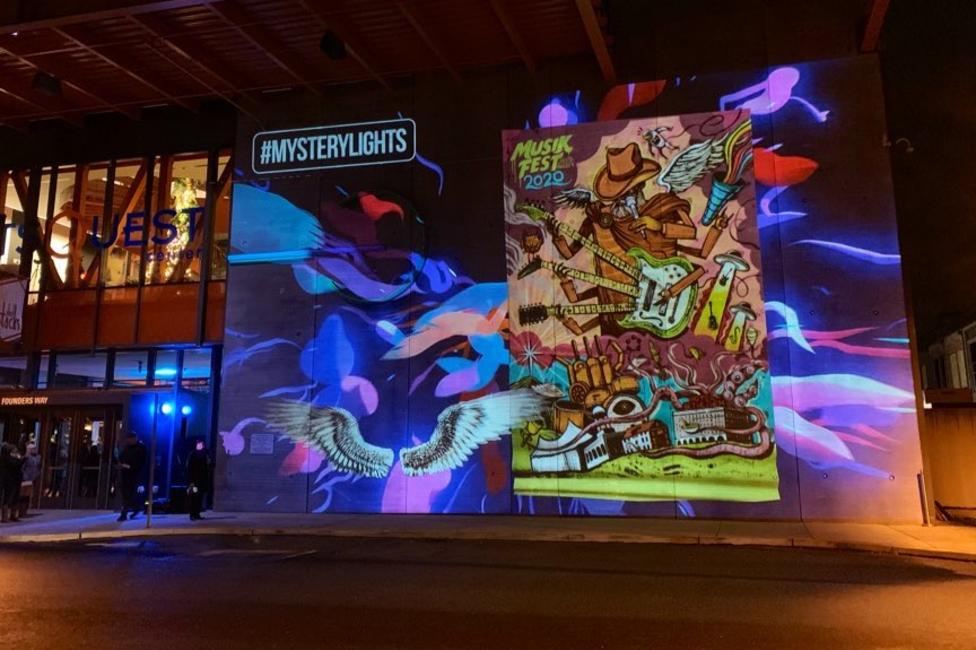 After popping up throughout the city of Bethlehem, the #MysteryLights culminated with a reveal of the artwork for Musikfest 2020.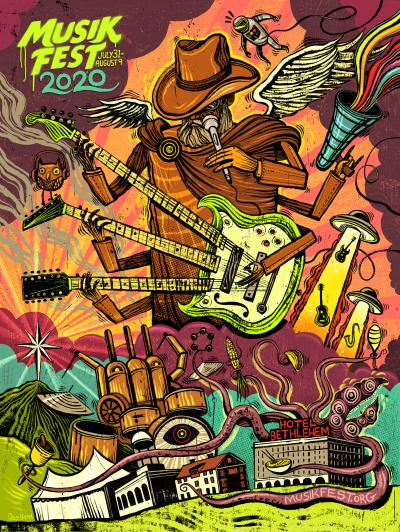 ArtsQuest paired up with digital artist and projectionist Jason Zulli, a professor at Northampton Community College, to showcase various aspects of this year's artwork via digital projection mapping at locations including Moravian College, the Main Street Commons, Five10 Flats, City Hall, and finally the ArtsQuest Center at SteelStacks. 
The imagery for Musikfest 2020 is created by Doug Boehm, a resident artist of the Banana Factory. The piece showcases iconic imagery of Bethlehem & Musikfest including the Historic Hotel Bethlehem, Central Moravain Church, and more. 
"My gritty style derived from my fascination with urban and industrial decay and the overwhelming power of nature and how it replenishes itself," says Boehm. "The Lehigh Valley has offered an over-abundance of both of my fascinations. I remember being in awe of the Bethlehem Steel blast furnaces, with its menacing presence as if it was straight out of a Batman comic." 
As noted in a press release by ArtsQuest, the poster incorporates important pieces of the Lehigh Valley's history, including the "Mystery Musician Tower" that's rises from where the Martin Tower once stood, like a sort of musical god. From the SteelStacks playing drums, to the Historic Bethlehem Tannery between Hotel Bethlehem and the Moravian Church, the poster honors the history of Bethlehem and Musikfest, while also adding a fun and mystifying flair. 
A limited supply of Musikfest 2020 merchandise is now available for purchase, including a special edition glow in the dark mug. For more information on #MysteryLights and the release of the festival artwork, click here.
Check out the gallery below for a peek at how the #MysteryLights helped to preview the release of the festival artwork.