We're onto the Sweet 16 in the inaugural Musikfest Madness!
A quick recap of round one shows Take a Taco coming on strong, pulling in some of the most votes of all contestants. They will have their work cut out for them, though, as they take on Holy Infancy in round two.
Weezer narrowly defeated Alan Jackson in a battle of rock vs. country.
Sarah Ayers Band had fans backing her, resulting in a strong performance and an easy move to round two.
One of the best matchups to watch will be Aw Shucks taking on Bethlehem Dairy Store!
Remember, we'll be announce three winners of Musikfest Mugs through the first three rounds and one grand prize winner of any Steel Stage tickets of their choice (except for Keith Urban, because he is so sold out Nicole Kidman can't even get tickets.)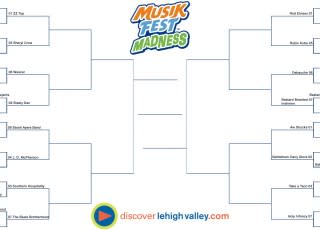 Our round schedule will be as follows:
Round of 16: July 14 - 16 Quarter Finals: July 18 - 20 Semi Finals: July 21 - 23 Finals: July 25 - 27
[gravityform id="15" name="Musikfest Madness - Sweet Sixteen"]