We're onto the Great Eight in the inaugural Musikfest Madness!
A quick recap of round two shows Bethlehem Dairy Store coming out of a tough matchup (vs Aw Shucks ) with a strong win by pulling in the most votes of all contestants. They will have their work cut out for them, though, as they take on Take a Taco in the next round.
In the Sands Steel Stage Region, Sheryl Crow and Steely Dan will by vying for the next round, while Sarah Ayers Band and The Blues Brotherhood will be battling for the Steelstacks Region. Finally, over in the Platz Region Rubix Kube and the Bastard Bearded Irishmen will duke it out.
[caption id="attachment_20015" align="alignleft" width="320"]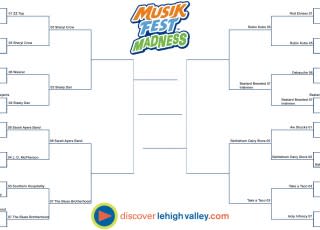 The Breakdown of The Bracket[/caption]
One of the best matchups to watch will be... all of them, there are only four matchups and eight combatants in this inaugural Musikfest Madness. Now we're getting down to it.
Remember, we'll be announce three winners of Musikfest Mugs through the first three rounds and one grand prize winner of any Steel Stage tickets of their choice (except for Keith Urban, because he is so sold out Bill Murray can't even get tickets.)
Our round schedule will be as follows:
Quarter Finals: July 18 - 20 Semi Finals: July 21 - 23 Finals: July 25 - 27
[gravityform id="16" name="Musikfest Madness - Elite Eight"]