Musikfest Madness has reached the FINAL FOUR. Who will emerge victorious in our inaugural showdown of all things Musikfest?
Musikfest's favorite food, Take a Taco, edged out the Bethlehem Dairy Store to take on the Bastard Bearded Irishmen!
Sarah Ayers Band takes on Steely Dan in a great battle of local vs. national entertainment.
Vote below and remember, we'll announce three winners of Musikfest Mugs and one Grand Prize Winner who will receive two tickets to any Sands Steel Stage show of their choice (except for Keith Urban because he's super sold out.)
Click on the image below for a full bracket view and vote in the bracket below. Vote now!
Our round schedule will be as follows:
Semi Finals: July 21 – 23 Finals: July 25 – 27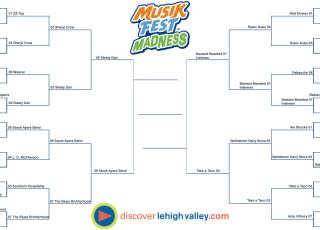 [gravityform id="20" name="Musikfest Madness - Final Four"]