We all have our favorites for best food stand at Musikfest or best band at Volksplatz or best Sands Steel Stage performance. Every early August, we're treated to these seemingly age-old rivalries again and again.
This year, however, is different. Introducing Musikfest Madness! The concept is simple, we're running a 32-entry bracket-style tournament with four "regions" and we'll have YOU vote until only one Musikfest icon from this upcoming year is left standing.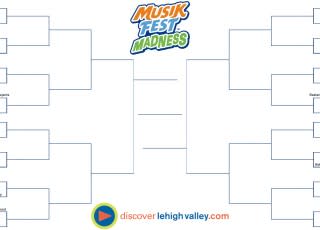 Will it be Alan Jackson or Aw Shucks corn on the cob? Sarah Ayers Band or Take a Taco? Only you can decide.
And, the best thing is that we will also be giving away 2014 Musikfest Mugs to random voters through the first rounds and a pair of Musikfest tickets to the Sands Steel Stage show of their choice to one lucky winner in the final round (the sold out Keith Urban show excluded, of course.)
So, get your friends together and vote for the best of what makes Musikfest, well, the best!
Our round schedule will be as follows:
Round of 32: July 11 - 13 Round of 16: July 14 - 16 Quarter Finals: July 18 - 20 Semi Finals: July 21 - 23 Finals: July 25 - 27
Now, get voting!
[gravityform id="14" name="Musikfest Madness"]