What do Bob Dylan, Eric Clapton, Johnny Cash, Kurt Cobain, John Mayer and Ed Sheeran all have in common? They all have played Martin Guitars. You don't have to be a guitar player or even a music aficionado to explore the world famous Martin Guitar factory in Nazareth, Pennsylvania. Since 1833 skilled artisans have been handcrafting these wonderful instruments.
If your group is looking for an exceptional tour in Lehigh Valley, then you would be remiss not to venture to the little town of Nazareth that Mario Andretti also calls home. Nestled snugly within a quaint, suburban sprawl, the factory cuts an impressive figure amongst the residential homes nearby.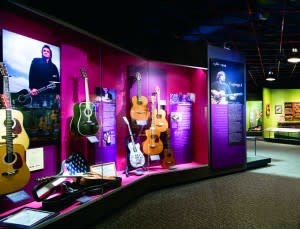 The walkway that leads to the Visitor's Center is emblazoned with a striking design in the likeness of a guitar headstock, beckoning all inside. As you enter the facility you will be greeted by the "Play Me Wall, where an assortment of Martin guitars hang waiting for eager hands to grab and strum and pluck their sonorous strings. Opposite this wall is the center's album and CD display, which proudly boasts the cover art of countless records featuring songs recorded with help from the Martin arsenal.
The tour lasts approximately one hour, in which time your group will be given a very in-depth, behind-the-scenes look at the company's elaborate and thorough process of guitar production and distribution.  This includes the various types of wood and other materials used to construct the physical make-up of the guitar; the assembly, inspection and testing, and finally the packaging and shipment.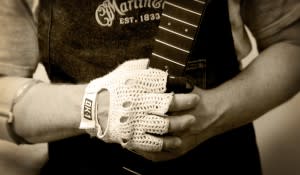 As tour culminates, you will find yourselves in the appropriately 1833 Gift Shop and each participant will receive a commemorative Martin souvenir, which was made from the excess wood removed for the sound holes of the company's guitars.
After your tour, be certain to take a walk through the Martin Guitar Museum, which documents in vivid detail the history of the company and its impact on popular culture, through historical artifacts, musician testimonials and anecdotes, and more than 200 vintage guitars and other instruments.
If your group hasn't had the chance to visit, call ahead to reserve your tour today, your eyes and ears will not be disappointed. Group tours are scheduled between 8 and 10:30 a.m. Monday through Friday. Reservations are required for groups of 10 or more. For more information please visit MartinGuitar.com or call 888-433-9177.