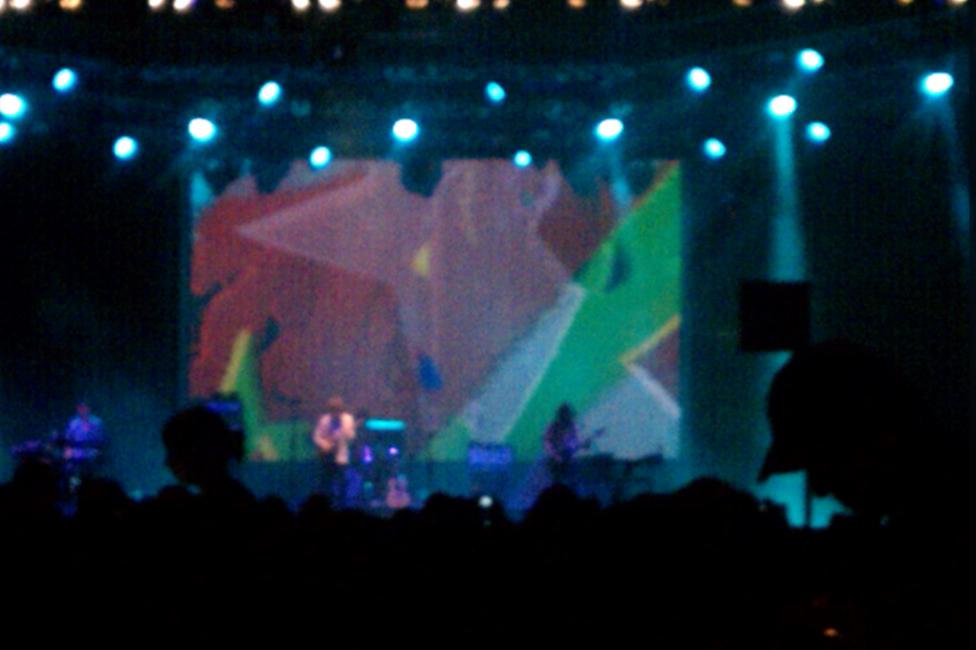 It was a dark and stormy afternoon in Lehigh Valley and as ominous clouds approached, ponchos were gathered. Several of us stayed under the cover of my aunt's patio waiting out the storm. Luckily it passed in just enough time for three of us to go see MGMT at Musikfest. Each year for ten days in August, I take the unofficial U.S. Postal Service motto as my own … Rain or shine, sleet or snow, off to Musikfest I will go.
Since my aunt lives so close to Musikfest it was a short trek down the hill to the show at Sands Steel Stage. Talk about a delightful venue. If you haven't been there yet, I highly recommend it. With party decks, bleachers, chairs and tented areas; there's really not a bad seat in the house. You can even stand back in the vendor area, listen to the band and still see the stage.  Plus the backdrop of Bethlehem Steel is gorgeous.
Atlas Sound opened for MGMT, I didn't pay as much attention to them as I was busy in the vendor area checking out t-shirts, chatting with friends, and stretching in preparation of possibly getting my dance on. Fine, I wasn't stretching, but I was hydrating before heading into the crowd. Some of you still might be wondering who MGMT are. I can tell you that if you were to recognize one of their songs it would be Kids, Time to Pretend or Electric Feel.
MGMT put on a great show, not that I expected anything less. The sound quality was phenomenal, they sounded pretty darn close to what you'd have heard on their album. Time to Pretend played early in the set, which of course got my toes tapping, I even have a special dance for that song which has now developed into my signature move. They even played a Rolling Stones song, Angie, which wasn't too shabby.
When you're standing back and a popular song comes on it's always fun to watch everyone who was taking a bathroom break run back to their seats. I witnessed this happen twice; the second time was when Electric Feel came on. I even headed towards my seat for that one, in a calm, less aggressive manner though. Here's a taste of MGMT playing Electric Feel on the Sands Steel Stage at Musikfest.
[youtube]http://www.youtube.com/watch?v=zk---pOHd44&feature=plcp[/youtube]
(Please excuse the tent, remember I didn't aggressively hit the stage for this song.)
What did you get tickets to see at Musikfest?