Mayfair Festival of the Arts marks the beginning of Summer to many people throughout Lehigh Valley and beyond.
Schools have let out, the weather is turning to consistent (fingers crossed) warm temperatures, and people throughout the area are beginning to enjoy outdoor activities.
Enter Mayfair, an Allentown staple, now located on The Allentown Fairgrounds, that combines art with music, great food, and awesome hospitality.
So, what can you expect this year? Here are a few highlights:
The Artists Market: Numerous artists from Lehigh Valley and beyond sell their creations at Mayfair Festival of the Arts. It's a great time to take a look at what new creations are being made (and maybe take some home with you as well.)
The Gallery at Mayfair: The Mayfair Artists' Council is welcoming a unique new event for 2014: The Mayfair Festival of the Arts National Juried Art Exhibition. This new exhibition welcomes artists from across the United States who work in any visual art media.
[caption id="attachment_19222" align="alignright" width="220"]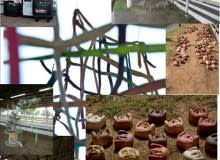 Pig Pen Project[/caption]
The Pig Pen Project: Mayfair caters to all types of art, including experimental. The Pig Pen Project is exactly that. Come take a look at some "outside the box" type art.
The Music Schedule: Do we need to say more? Take a look at what artists are playing and make a date to check them out before or after you wander the grounds.
The Food: After being stuck inside through a pretty rough winter, doesn't funnel cake sound great right about now? You know it does.