This is a page for Old Man Winter. Paging Old Man Winter.
If you're like me, you love the change of seasons. This year it seems we've been stuck in fall mode in Lehigh Valley … until now that is! The temps have finally dropped to where there is a chance for the natural stuff to fall from the sky, even though that still hasn't happened yet besides the few flurries I am staring at out my window at the present time. Luckily, for those of us that are winter enthusiasts, we've got two great resorts who have the capabilities to make a ton of the white stuff without the Snow God coming into play.
I don't know if I can honestly decide which mountain I like the best; Bear Creek Mountain Resort or Blue Mountain Resort. I'm not a skier or a boarder, but I do enjoy my tubing, and being in the fresh crisp mountain air.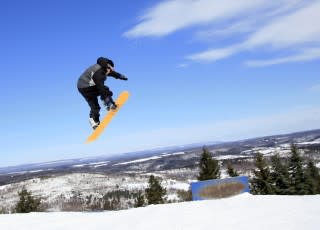 For years, while my son was younger, I "lived" at the mountains. He's a boarder and would spend any night possible at the mountains. He'd even be out there in the rain! So, while he was out shredding it up, I'd be camped by the fires inside the lodges with a laptop or a good book. The mountains made for pretty backdrops and the lodges gave me the feeling of my home away from home.
My son's probably partial to Blue Mountain Resort, as they have the highest vertical in Pennsylvania. He's quite the extremist. I'd probably say that I enjoy Bear Creek Mountain Resort a tad more … only due to my selfishness with their spa opportunities that I would treat myself to every once in a while.
If you are planning to extend your stay in Lehigh Valley and spend a night or two at Bear Creek and are looking for other things to do, here are a couple suggestions: Take the time to head to the nearby wineries. There are some Lehigh Valley Wine Trail wineries close by; Clover Hill Vineyards & Winery and Vynecrest Vineyards & Winery. Another newer vineyard who is not part of the trail is Folino Estate. While I haven't been there yet, I hear amazing things about it so if you are heading there, let us know what you think! After some wine tastings I'd head for a delicious dinner at Gio Italian Grill. And, if you're heading for Valentine's Day, make sure to order their heart-shaped pizza!
If you're heading to Blue Mountain, while there is no lodging available at the facility, I'd still try to make it a multiple day trip as you will want to explore all 39 trails and six terrain parks, and who can do that in one day, right? So, make plans to stay at Woodstone Country Club & Lodge. It's the closest property to the mountain. For your extended adventure, head to Country Junction – The World's Largest General Store, located less than five miles away. After walking the aisles of the store and partaking in their other activities, I'm sure you'll have worked up an appetite. Make a pit stop at Stefano's Sicilian Grille for a little slice of heaven.
Still looking for other ideas? Hit us up on Facebook or Twitter and we'll be sure to share our favorite places!